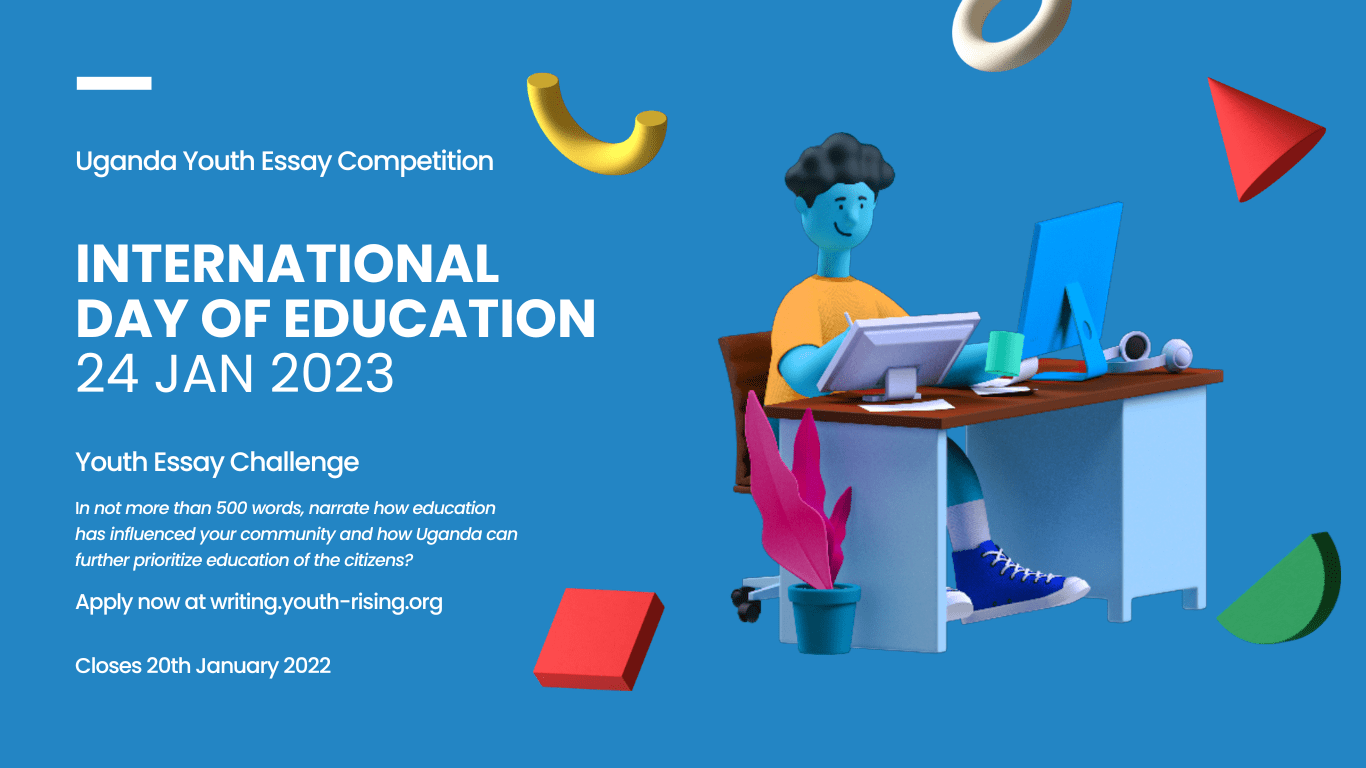 Youth Rising International Day of Education Essay Challenge 2023 for Ugandans
Deadline: January 22, 2023
Applications are open for the Youth Rising International Day of Education Essay Challenge 2023. Are you a Ugandan aspiring writer who is 12–23 years old or in grades Primary 6 – Primary 7, Senior one to Senior Six, or a University student?
Apply to participate in the monthly essay competitions and stand a chance to win cash prizes, gift hampers, and a chance for your essay(s) to be featured in the annual literary magazine.
Challenge Question
Education is a human right, a public good and a public responsibility. The United Nations General Assembly proclaimed 24 January as International Day of Education, in celebration of the role of education for peace and development.
Without inclusive and equitable quality education and lifelong opportunities for all, countries will not succeed in achieving gender equality and breaking the cycle of poverty that is leaving millions of children, youth and adults behind. The fifth International Day of Education will be celebrated on 24 January 2023 under the theme "to invest in people, prioritize education". Building on the global momentum generated by the UN Transforming Education Summit in September 2022, this year's Day will call for maintaining strong political mobilization around education and chart the way to translate commitments and global initiatives into action. Education must be prioritized to accelerate progress towards all the Sustainable Development Goals against the backdrop of a global recession, growing inequalities and the climate crisis.
In not more than 500 words, narrate how education has influenced your community and how Uganda can further prioritize education of the citizens.
Eligibility
Open to youth who are citizens of Uganda and are resident in the country.
Applicant should be 12–23 years old or in grades Primary 6 – Primary 7, Senior one to Senior Six, or a University student.
Application
They recommend that you take your time to develop your submission in Microsoft Word before you paste it into the application form.
Develop your essay as a one-page, not more than 500 words, Times New Roman, Size 12, single-spaced, and justified. After you have completed your essay, you will be able to copy it and paste it into the PDF application form.
The winning essays are published on the Youth Rising website and social media sites. Winners are contacted by email and phone.
For more information, visit Youth Rising.