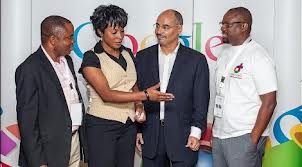 Google Business Group Conference 2013 in Port-Harcourt, Nigeria
Deadline: August 22, 2013
Exciting Opportunity! Register to attend the Google Business Group (GBG) Conference 2013 in Port-Harcourt, Nigeria.
The conference is aimed at bringing small and growing businesses in Port-Harcourt together to learn how they can leverage on 'Google Apps For Business' to ensure business success as well as create a community of business who can share ideas and best practices in their various line of businesses.
Date: August 23, 2013
Time: 9am
Venue: The Atrium stadium Road Port-Harcourt, Rivers State.
The event is FREE but attendance is strictly by invitation. Apply to get an invite!
Last day to register is August 22, 2013. Google online search engine giants want to empower businesses led by young people to make the best use of its Apps to increase their turnover. Register now.