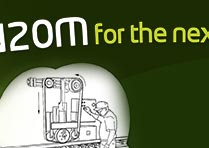 Etisalat's Easybusiness Millionaires Hunt: Win N20m for Your Idea!
Deadline: December 31, 2013
Do you have an idea that you think is an edge above others?  then submit it for a chance to win 20million naira in the easybusiness millionaires hunt. Easybusiness Millionaires Hunt is designed to reward SMEs with the most viable business ideas, fantastic gift items such as business grants worth N20m, free training courses on entrepreneurial management and advisory services from the esteemed "Enterprise Development Centre" of the Pan Atlantic University, office equipments and Smartphones to kick off their business
How to participate:
Interested customers would be required to text YES to 5885 from their easybusiness lines to opt-in for the competition.
An SMS would be received indicating a unique code and a URL where the business idea should be forwarded to.
Easybusiness customers can also enter a daily draw to win smartphones by texting WIN to 30555
Promotional offer is open to new & existing easybusiness customers only.
Customers must have renewed their monthly CUG subscription to be eligible.
Prizes
N2 million each for the TOP ten business ideas.
The top 50 will be rewarded with free business training at the Lagos business school & office equipment.
Over 200 Smartphone's to be won throughout the promo duration.
Click link to get on board the easybusiness package.
For more information, dowload the flier here