Deadline: May 7, 2014
Lottie in partnership with a US non-profit organisation 'Brave Girls Want' invites you to an innovative global competition to get kids aged 10 and under to design a superhero outfit for the Lottie™ doll. Recognizing the lack of strong female superheroes out there, Lottie established this competition and campaign with the message that girls can be superheroes tool is very much needed.
About Lottie and the Competition
Lottie is an award-winning doll for children aged 3-9. The key point of difference is that Lottie has a 'childlike' body, doesn't wear makeup, jewellery or high heels and can stand on her own two feet (always a useful life skill for all girls, big and small).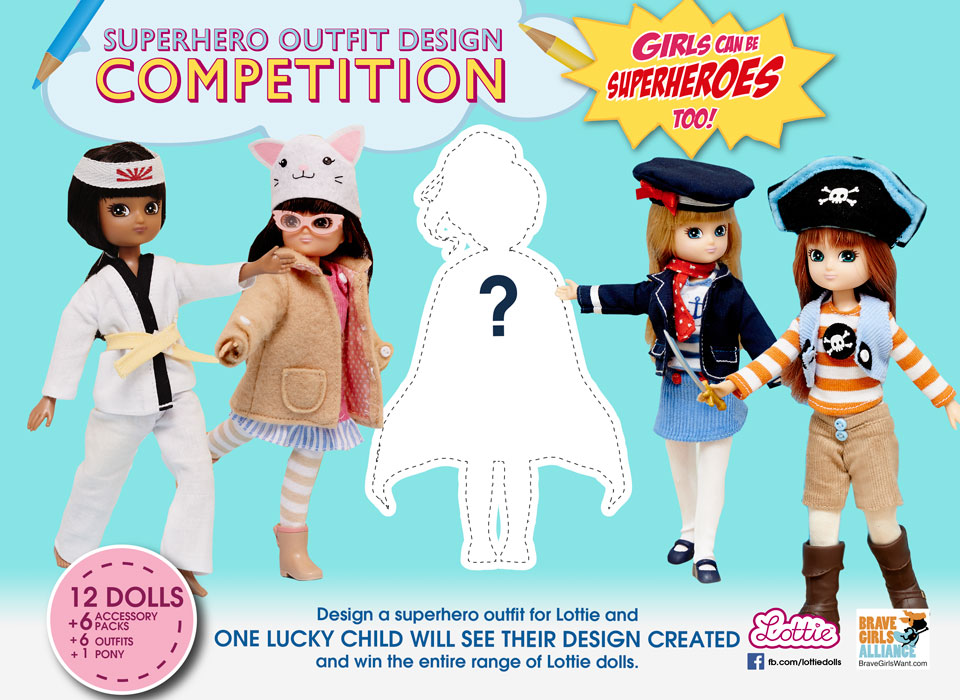 The Lottie™ 'Design a Superhero Outfit Competition' is a once-in-a-lifetime chance for one lucky child to see their design come to life, with the winning superhero outfit being manufactured and made commercially available in Autumn 2014. This is the first time that a crowdsourced design by a child will go into commercial production.
Prize:
One lucky child will see their superhero outfit design manufactured and made commercially available in Autumn 2014.
The winning child will see their original artwork design, first name, age, city and country on the back of the outfit packaging
The winning child will also win the entire range of Lottie dolls, accessories and outfits
Eligibility:
Competition open to kids aged 10, and under only
Parental permission required to enter the competition
Criteria:
A winner will be selected by jury and confidentially notified in May 2014
Multiple entries permitted
Full terms and conditions available here.
Application procedure:
Parents:

Go to the Superhero Contest app on the Lottie Facebook page; like the page and download and print out the Superhero Outfit Design template.
Take a photo of your child's design and upload it on the Lottie Facebook app, and fill in a form to allow your child to enter.

Kids:

Start colouring and create a superhero outfit design for Lottie
For more information, click here.