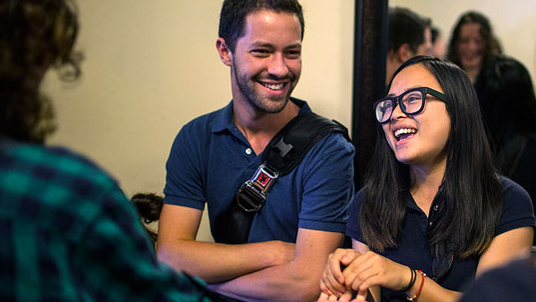 Full tuition Minerva Undergraduate Scholarships 2015 for Unique Global University Program
Deadline: March 15, 2015
Minerva Schools at KGI, a newly accredited top tier US university is offering 10 Full Tuition Fee scholarships for aspiring global leaders and innovators. Minerva provides Undergraduate university experience for the world's brightest, most curious and globally-minded students – educating them to become the next generation of global leaders, innovators and critical thinkers. With a reinvented curriculum designed by former Harvard faculty, they teach students how to think, not what to think – equipping them with the tools needed to be successful in the 21st century.
Combining innovative teaching technology with a global rotation program, students move around the world in cohorts and live together in residence halls in up to 7 different world cities such as San Francisco, Buenos Aires and Berlin – providing a truly unique global immersive experience.
Tuition fees are set at $ 10.000 per year, less than a quarter of peer institutions. Minerva has no caps on admissions – anyone who qualifies to get into Minerva will be offered a place regardless of their nationality or financial situation.  Admissions is based on academic performance, individual achievement, and potential for innovation and leadership.
Scholarship Details
In addition to individual Financial Aid plans available to each qualifying student with demonstrated need, Minerva provides ten (10) need-based Full-Tuition scholarships each worth USD 40.000 in the following categories:
Academic Achievement
Encouraging Institutional Reform
Social Change
Creative Expression
Social Justice
Entrepreneurial Initiative
Transformational Leadership
Perseverance
Discovery and Innovation
Global Understanding
Eligibility
Students from all nationalities are eligible to apply.
Students must be successful in their application to Minerva in order to qualify for the scholarship.
Scholarships are based on excellence as well as demonstrated need, and students must submit their CSS profile in order to be considered.
Scholarships are for Minerva's September 2015 intake only.
How to Apply
The application is free and easy to complete.
The application takes approximately 20 minutes to complete.
You can save and resume later. (If you have already started an application, you can resume your application here)
All application fees are currently being waived.
You will need personal and school information, as well as academic performance and accomplishments information.
If you have a disability that may affect your ability to complete the application online, please read this additional information.
View their Frequently Asked Questions for more.
Are you ready for the challenge? If you are ready to join the brightest, most motivated students in the world, take the first step and begin your application.
If you are asked how you heard about the Scholarship, type www.opportunitydesk.org. Thank you.
For more information and to apply, visit Minerva Undergraduate Scholarships.