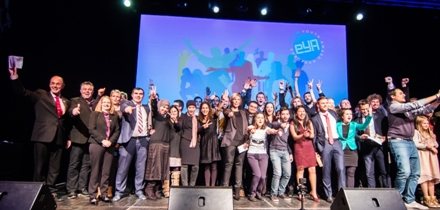 2015 European Youth Awards
Deadline: July 21, 2015
The European Youth Award (EYA), is organized by the International Center for New Media, (a Non-Profit Organization based in Salzburg, Austria) is a pan-European contest to motivate young people, social entrepreneurs and start-ups to produce socially-valuable digital projects that address the goals defined by the Council of Europe and Europe 2020. It demonstrates their potential to create innovative solutions with Internet and Mobile technology.
Eligibility Criteria
People who fulfill the following criteria are eligible to participate in the competition:
Creative minds under the age of 30 (born after January 1, 1985)
 Living in one of the member states of the European Union or Council of Europe
 Who have produced an outstanding, innovative digital project with social value.
Eligible countries: Albania, Andorra, Armenia, Austria, Azerbaijan, Belgium, Bosnia and Herzegovina, Bulgaria, Croatia, Cyprus, Czech Republic, Denmark, Estonia, Finland, France, Georgia, Germany, Greece, Hungary, Iceland, Ireland, Italy, Latvia, Liechtenstein, Lithuania, Luxembourg, Malta, Republic of Moldova, Monaco, Montenegro, Netherlands, Norway, Poland, Portugal, Romania, Russian Federation, San Marino, Serbia, Slovak Republic, Slovenia, Spain, Sweden, Switzerland, The former Yugoslav Republic of Macedonia, Turkey, Ukraine, United Kingdom and Belarus, Kosovo
Benefits
Invitation to  

EYA Festival

 (winners event)  in Graz from November 18-21! (winners will receive a grant to cover their travel costs, accommodation will be covered)!

Get valuable feedback from experts and project analyses from international and local young academics!

Meet other engaged and amazing young people from all over Europe, ICT experts, social entrepreneurs and business leaders, media representatives and many more!
Present your project on a pan-European stage!
Share ideas, initiatives and inspiration with other amazing creative minds!
Learn more about exciting youth initatives and current trends at workshops and seminars held by experts and business leaders!
 Have your project showcased on the web at EYA Youth award!
 Be promoted through the EYA network – a network with ICT experts, business leaders, multimedia producers, young entrepreneurs and youth leaders!
 become part of a vibrant and lively community of young and active people taking action on Europe's most pressing challenges
Categories
Health Life: Fitness, nutrition,healthcare
Smart Learning: Education, e-skills and open-science
Connecting Cultures: Arts, Games & Diversity
Go-green: Sustainable Energy, mobility and Urban Development
Active Citizenship: Free Journalism, Open Government, Social Cohesion
Money Matters: Financial Literacy,Employment and Smart Consumerism
See full details on each category.
How to Enter
Open the contest database and register
Complete registration and login to complete your profile
Register your project and fill out the form (The submitted project, product or application may be in any language).
All registration and submission information (such as project description, CV of producer) must be in English. The provided information must give a clear picture of the project to serve as a sufficient basis for the evaluation process.
TIP: See list of previous winners!
For more information, visit EYA, FAQ or contact [email protected]