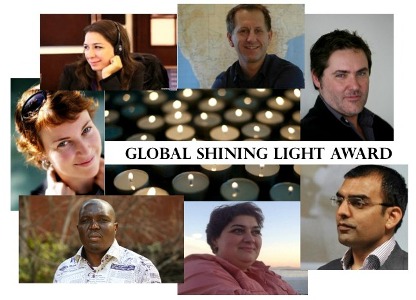 Global Shining Light Award For Journalists
Deadline: May 1, 2015
Every two years, the Global Investigative Journalism Network presents the Global Shining Light Award, a unique award which honors investigative journalism in a developing or transitioning country, done under threat, duress, or in the direst of conditions.
The Global Investigative Journalism Network, GIJN is pleased to recognize and celebrate these courageous investigative journalists and their work.
Award
The winner receives an honorary plaque, US$1,000, and a trip to the Global Investigative Journalism Conference to accept the award in front of hundreds of their colleagues from around the world.
Criteria For Application
The journalist, journalism team, or media outlet provided independent, investigative reporting, which:
Originated in and affected a developing or emerging country
Was broadcast or published between January 1, 2013 and December 31, 2014;
Was of an investigative nature;
Uncovered an issue, wrong-doing, or system of corruption which gravely affected the common good;
And did so in the face of arrest, imprisonment, violence against them and their families, or threats and intimidation
If submissions are in languages other than English, you must provide a detailed English-language summary of a print or online story, or an English-language transcript of a broadcast script.
How to Enter
Global Shining Light Awards/GIJN,
Pozsonyi Way 10, 2nd floor 8 door,
Budapest 1137, Hungary.
Application must include the following:
Title of story or series, as well as all names, contact information for people who worked on the project. For a partnership or collaboration, please name each entity that took part in the investigation.
Date(s) and country(ies) story/series was broadcast or published.
Electronic link to story (if possible), and PDF or .doc file of the story/series.
Topic and synopsis of story or series, including major findings (must be in English).
List the significant documents, materials, and sources used. Did you have difficulties obtaining information? If so, how did you resolve it?
Did you need to run a correction or clarification on the report? Did anyone challenge its accuracy? If so, please explain.
What were the results/impact of the reporting?
Explain how this story done under done under threat, duress, or in difficult conditions.
Did you face arrest, imprisonment, violence, threats, harassment, or censorship
For more information visit Global Investigative Journalism Network or e-mail [email protected]