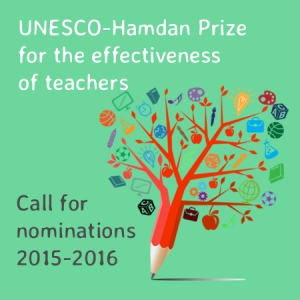 Nominations Open: UNESCO-Hamdan Prize 2015-16
Deadline: October 31, 2015
The fourth edition of the UNESCO-Hamdan bin Rashid Al-Maktoum Prize for Outstanding Practice and Performance in Enhancing the Effectiveness of Teachers has opened the call for nominations. The prize is awarded every two years and it recognizes initiatives that contribute to improving educational practices around the world, with priority given to developing countries and to marginalized and disadvantaged communities.
Prize
The Prize will be awarded for the 4th time at a ceremony that will take place during World Teachers' Day celebrations at UNESCO Headquarters in Paris on 5 October 2016.  The prize amounts to $300,000, which is equally divided between three winners whose projects aim at improving worldwide the performance and effectiveness of teachers.
Eligibility
Candidates may be individuals representing institutions or organizations; international or national governmental or non-governmental organizations (NGOs); educational or research institutions and local/national/regional communities.
Applications are not opened to individuals.
 How to Apply
Applications may be submitted in two ways:
A candidate shall ask a nominating body to send its application to UNESCO;
 A nominating body may initiate the process of nominating a candidate and send the application to UNESCO.
 A candidate shall be nominated by no more than one nominating body.  Applications must be written either in English or French only.
Unsolicited applications are not taken into consideration/ self-nominations cannot be considered
The application must contain:
The nomination form filled by the nominating body (using the appropriate form);
The application form completed by the candidate (using the appropriate form);
Accompanying/supporting materials (in English or French).
Download application and nomination forms here.
Nominating Bodies
Nominating bodies may be governments of Member States, in consultation with their National Commissions and non-governmental organizations (NGOs) maintaining official partnerships with UNESCO.  A nominating body may nominate and recommend up to 5 candidates for the Prize.
For more information visit UNESCO Hamdan Prize or contact teacherprize(a)unesco.org