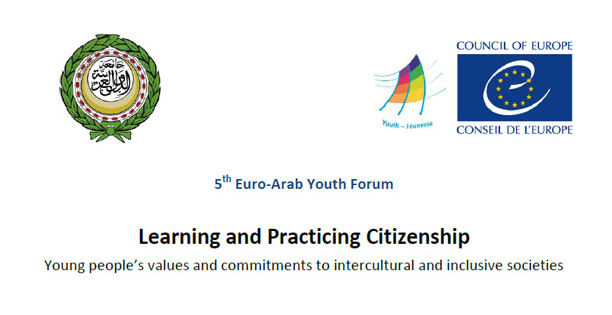 5th Euro-Arab Youth Forum on Learning and Practicing Citizenship – Strasbourg, France
Deadline: May 14, 2015
Applications are now invited from youth leaders for the 5th Euro-Arab Youth Forum taking place from September 2-5, 2015 at the European Youth Center Strasbourg, France. The 5th Euro-Arab Youth Forum aims to foster mutual cooperation and dialogue among young Arab and European leaders, representatives of associations and decision-makers, on the meanings and practices of citizenship by young people and the challenges they face in their paths to autonomy.
The programme will be structured on the thematic focus of the forum: Meanings, Challenges and Practices of Citizenship. A specific attention will be devoted to sharing approaches and tools for citizenship and human rights education and intercultural dialogue.
Non-formal education methodologies should facilitate the exchange of realities and intercultural dialogue; participants are expected to play an important role in the definition of the programme. Guests from other Council of Europe services will support the learning and exchanging, complemented by experts from the League of Arab States.
Cost and Benefits
Accommodation and meals will be provided, for the duration of the forum, by the Youth Department of the Council of Europe at the European Youth Centre in Strasbourg.
Travel expenses for participants from Europe, invited by the European Youth Forum or by the Council of Europe, will be reimbursed by the Council of Europe according to the Council of Europe rules.
Eligibility
All participants must also meet the following criteria:
Be aged between 18 and 30 years
Be a youth leader and youth worker resident in member states of the League of Arab States or the Council of Europe
Have a demonstrated experience in civil society and youth work
Be actively interested in the forum aims and themes and in following up of the forum within their organisations.
Ability to communicate and communicate in English or Arabic.
The co-organisers aim to select and invite:
36 participants from member states of the Arab League
36 participants from the Council of Europe member states, co-recruited by the Council of Europe and the European Youth Forum
The selection will respect an equal number of male and female participants from each country/region
How to Apply
All those interested in attending the forum should register and fill in an on-line application form at http://youthapplications.coe.int/ according to the instructions provided on the site.
The application should be accompanied by a supporting letter of the sending organisation or institution which states the reasons why the participation of the applicant is important for the organisation.
Applicants will informed about the decision concerning their application by 10 June 2015.
For more information, visit 5th Euro-Arab Youth Forum.