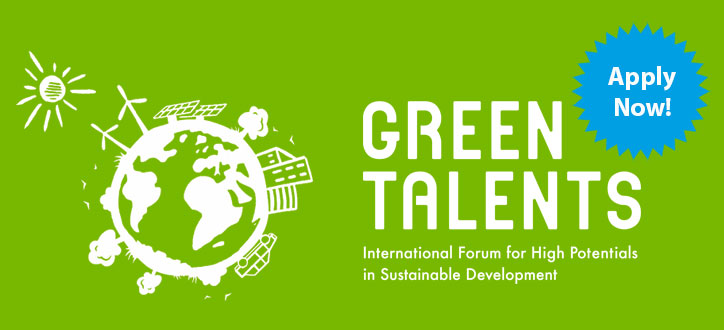 Green Talents Competition for Young Researchers 2015 (Win a fully-funded trip to Germany)
Deadline: June 2, 2015
Are you an emerging scientist with original ideas and focus on sustainable development? Does your research have the potential to change the world? Enter the Green Talents Competition and become one of the 25 GreenTalents of 2015.
The German Federal Ministry of Education and Research invites outstanding young scientists from around the world to apply for a seat in the fully funded "Green Talents – International Forum for High Potentials in Sustainable Development". Awarded as one of the 25 winners, the "Green Talents" are given exclusive access to the German research landscape with all its prestigious institutions and leading experts
The Green Talents Competition focuses on outstanding young scientists who are active in the field of sustainable development. As the theme of Germany's Science Year 2015 is the "City of the Future" applications are invited from candidates who work in and around this topic. However, the competition is open to all subject areas and offers equal chances of success.
Benefits
The prestigious Green Talents programme offers you the unique opportunity to become part of an exceptional world-wide network of outstanding young minds and leading German institutions. The prizes consist of:
An invitation to a two-week science forum in Germany, where you will be introduced to renowned research facilities and have individual appointments with experts
A workshop on research and funding opportunities will provide you with further information for your future research stay in Germany.
A festive award ceremony hosted by a high-level representative from the BMBF
The opportunity to return to Germany for up to three months for a research stay at an institute of your choice the year after the science forum.
The forum and the extended stay will be fully-financed by the BMBF. BMBF will cover your travel expenses as well as your meals and accommodation. They will also provide a monthly allowance when you return in 2016 for your research stay.
Eligibility
Applicants must meet the following requirements:
Enrolment on or completion of a Master's degree programme or higher (Master´s/PhD) with significantly above-average grades at the time of application (individuals therefore eligible to apply: Master's and PhD students, Master´s and PhD graduates)
Strong focus on sustainable development and an interdisciplinary approach
Excellent proven command of English
Not older than 32 years of age (at the time of application)
A non-German citizen or anyone not residing in Germany (individuals therefore not eligible to apply: German passport holders as well as anyone living in Germany at the time of application even if the residence is temporary).
Application Requirements
Applications can only be submitted via an online tool. The following documents will be required:
Current letter of recommendation or expert opinion focusing on your career as a scientist and activities up until now (letter must be in English and should not be older than 6 months).
Your latest academic qualification transcripts
Proof of your English language skills.
For more information and to apply, visit Green Talents Competition 2015.