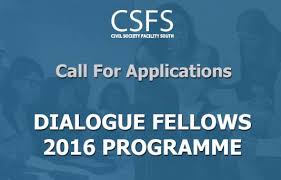 Call for Applications Dialogue Fellows – 2016 Programme (Fully Funded)
Deadline: March 10, 2016
Applications are invited for the Dialogue Fellows Programme. Young people have played a significant role in the recent Arab movements, demanding basic human rights for building their future towards sustainable processes.
The Fellowship programme invests in the mobilisation of youth as drivers of change and democracy. It aims to involve Youth into policy making and dialogue in the Southern Mediterranean region. It will support the creation of a network of fellows, meeting quarterly during the year, to share experience, monitor progress and provide mutual support. It will be managed by the Civil Society Facility South (CSFS) in Tunis on behalf of the European Commission (DG NEAR), in close collaboration with partner CSOs from the region.
Costs
Costs related to participation will be covered (flights and visas, accommodation, meals).
Eligibility
Eligible countries are Algeria, Egypt, Israel, Jordan, Lebanon, Libya, Morocco, Palestine, Tunisia and Syria.
Eligible CSOs from eligible countries are to make ONE proposition based on these requirements:

One applicant per organization (CSO);
Proposed applicant should be within the age limits of 25-36 years old;
Proposed applicant has at least 3 years-experience being involved in sectorial projects, specifically in actions of advocacy and policy dialogue;

English or/and French language proficiency in addition to Arabic will be required.
Application Process
The following are required for a succesful application:
Written application from the applicant's CSO explaining and supporting the candidacy; Downloadable here.
Motivation letter from the applicant in Arabic; translated in either English or French, and co-signed by the CSO; Downloadable here.
Curriculum Vitae of the applicant;
Copy of passport or ID (with birth date).
Eligible applications should be submitted to: [email protected]
Selected applicants will receive a confirmation of selection by email. They will have to confirm their presence to all activities. Invitations for obtaining visas will be sent.
The deadline is March 10, 2016 (4.00 pm Tunis Time).
For more information, visit Dialogue Fellows – 2016 Programme.