Deadline: September 21, 2016
Applications are now open for the Orange Social Venture Competition organized by the Orange Group. The Orange Social Venture Prize rewards entrepreneurs developing products or services that use ICT in an innovative way to meet the needs of people in Africa or the Middle East in fields such as health, agriculture, education, energy, industry or trade.
Eligibility
Any entrepreneur (aged 21 or over) or legal entity that has been in existence for fewer than three years at the time of the competition may participate at no cost and with no restriction on nationality.
Submitted projects must be designed to be deployed in at least one of the African or Middle Eastern countries in which Orange operates (listed below)and must use information and communications technology in an innovative way to help improve the living conditions of the populations in these countries.
Eligible countries includes: Botswana, Cameroon, Ivory Coast, Egypt, Mauritius, Guinea Bissau, Guinea Conakry, Equatorial Guinea, Madagascar, Mali, Morocco, Niger, Liberia, the Central African Republic, the Democratic Republic of the Congo, Senegal, Tunisia and Jordan.
Awards
The awards will be broken down as follows:
1 st prize: the payment of € 25,000 (twenty-five thousand euros).
2nd prize: the payment of an amount of € 15,000 (fifteen thousand euros)
3rd prize: the payment of an amount of € 10,000 (ten thousand euros).
4th Special Cultural Content prize: the payment of an amount of € 5,000 (five thousand euros).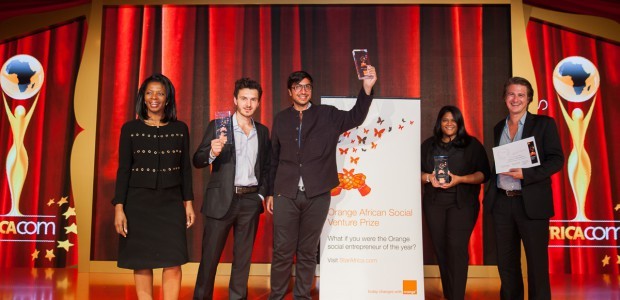 How to Enter
To enter the contest, you need to fill in the registration form. You need to provide a picture (logo, photo, etc.), the business plan in a PDF file (which will not be published) and a small public description of the project.
Candidates have to submit their application form online at www.entrepreneurclub.orange.com, in the Orange Social Venture Prize section.
There are two required documents (which will be the only documents consulted by the jury during the pre-selection phase). These documents  must be written in English or French.
Entry form

 It is available on line and should be filled in directly on the Site 
Asterisked fields must be filled in to validate the entry.

Entry file relative to the Project 

The format authorised is that of a file in PDF format of 10 Mb maximum.
 Important: The name of the said file must be strictly identical to the name of the project mentioned in the first field of the entry form.
The elements for constituting the Project File are the following:

Summary presentation of the Project: between 1000 and 2000 characters Orange SA – external 2016 4
 Analysis of the market
Identification of the market opportunity
Presentation of the product/service proposed
Information about the management team
Financial forecasts
Evaluation of the societal impact
An application with an incomplete file will not be taken into account.
For more information, visit Orange Entrepreneur Club