Deadline: July 3, 2016
Applications are now been accepted for the 2016 Ignite Agribusiness Programme!
Ignite is an Agribusiness programme designed to spark creation of jobs and wealth in young women through Agripreneurship. Ignite nurtures and turns their ground-breaking ideas into profitable and sustainable Agribusinesses. Businesses are expected to become sustainable businesses producing value added goods and services that can not only bring high financial returns, but also increase employment to others, create  demand for agricultural produce and more export opportunities.
About the Ignite Program
Ignite begins with a five month inception phase with two parts. In the first part, fifteen (15) female graduates will be given the opportunity to build a strong set of skills. They will be embedded in a learning program within a rural agricultural setting and learn how to use technology to increase farm produce (the base of all Agribusinesses). The training will be done with strong exposure to a novel green house and in the process also learn entrepreneurial skills such as planning, teamwork, marketing, communication and financial management.
The internship stage is where participants familiarise themselves with agribusiness markets. Moreover, a key part of this last three months of this phase is for graduates to receive hands-on experience from successful agribusinesses and companies.
After the inception will be placed in an incubation hub where mentoring and coaching sessions will be provided towards the end as they prepare and finalise a viable business plan to take Agripreneurship flight.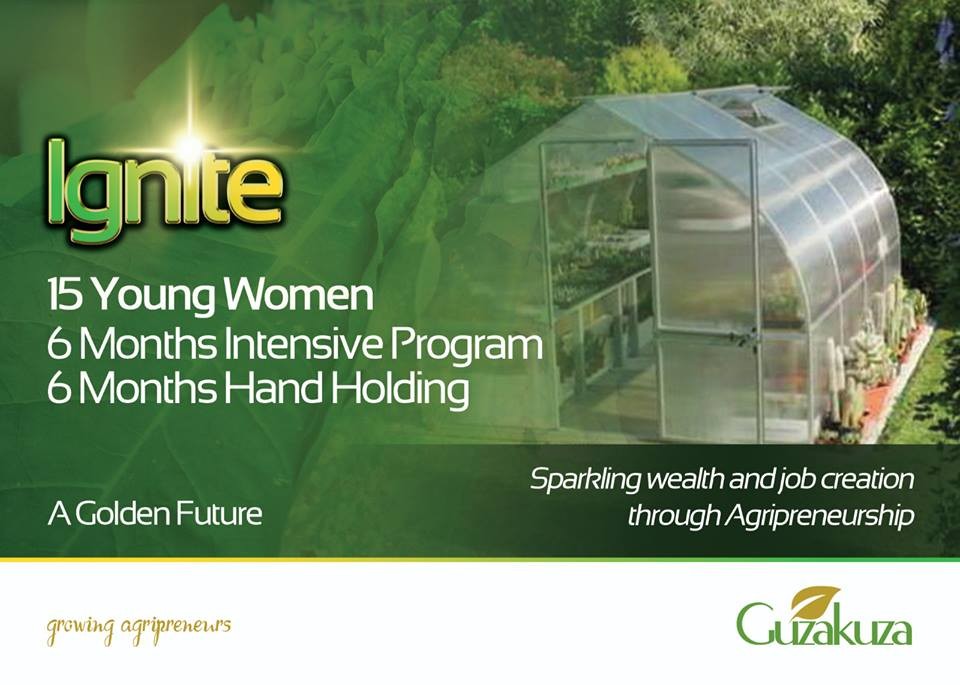 Eligibility
The programme is designed for young woman graduates less than 35 years
Must have a tertiary qualification with at least a formal diploma or a higher tertiary qualification
Available to go through the entire program .
Must have a burning desire to start own Agribusiness after program
Must have a GUZA idea (Great,Unique,Zealous, Achievable).
How to Apply
All applicants must submit the following documents:
Agribusiness idea
Curriculum Vitae
3 references (2 professional and 1 personal.)
For more information, visit Gazukuza-Ignite