Deadline: November 1, 2016 (Round 1- preferred) & December 1, 2016 (Round 2 -final) 
Applications for  the 2017 Africa Business Fellowship is now open. The Africa Business Fellowship is a partnership between Econet, African Leadership Network (ALN), and Management Leadership for Tomorrow (MLT). The program will match young American business professionals with paid 6-month placements in African companies. Its purpose is to strengthen relationships between the African and American business communities and provide future American business leaders with the hands-on experience they need to truly understand business in Africa.
The Africa Business Fellowship is an unparalleled opportunity for American professionals to gain invaluable insight and hands-on experience in African businesses. It is a career development opportunity, an inter-cultural exchange program, and a networking platform. The ABF will develop high-potential American business professionals into leaders who have a sophisticated understanding of how business is done in Africa. In the long run, it will transform business relations between the United States and Africa.
Eligibility
This fellowship is open to US Citizens and Permanent Residents only
An ideal candidates must be innovative and driven professionals, with strong leadership potential, who have a deep passion for learning about and experiencing first-hand business in Africa and promoting America-Africa business relationships.  The ideal candidate will have:
MBA and/or 4+ years of meaningful business experience
Track record of academic achievement and early professional success
Strong analytic and communication skills
Community-level leadership accomplishments
Personal traits that reflect their potential: humility, integrity, ability to engage others, and a long-term vision for their place in the world.
Key Dates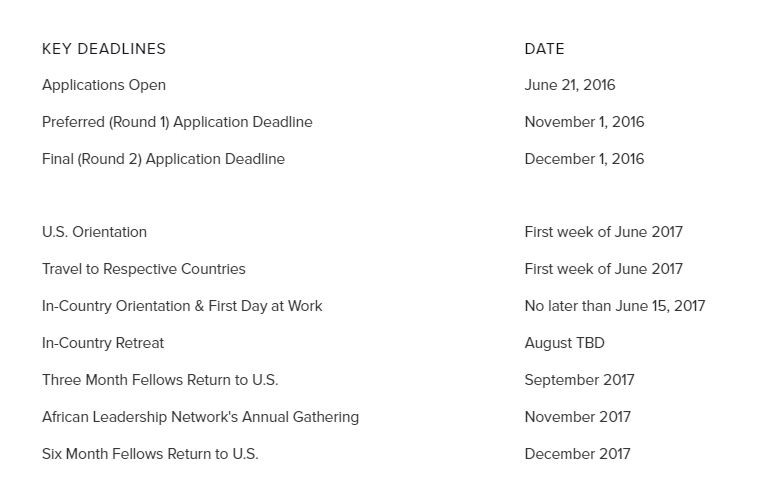 How to Apply
Apply online.
Application Requirement
Educational and professional experience, including official transcript(s).
3 brief essay questions that help us understand your passions, skills and interests, as well as how the Fellowship ties to your career objectives.
2 minute video response which allows our candidates to share more about themselves
Written professional reference(s) from employer or other professional who can speak to candidate's leadership experience and potential.
For more information, visit Africa Business Fellowship