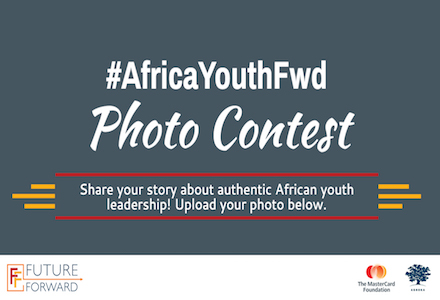 Photo Contest – Future Forward #AfricaYouthFwd
Deadline: August 7, 2016
What does putting youth in charge look like? Who are the youth leaders of today driving #AfricaYouthFwd?  Ashoka/Future Forward invites youths to share a photo and story for the chance to win an article featuring your project and US $200 worth of Facebook ads.
Entry categories
Agriculture,
Technology,
Energy/Environment, and
Health
Prizes
Four winners will be chosen, one for each category
Winners will be featured on the Future Forward Ashoka web site, and may also be featured in one or more original articles published with one of Ashoka media partners, such as Forbes.com.
The article(s) will then be promoted through targeted Facebook ads in each of the winners' respective regions, at a value of US $200 each.
How to Enter
Include up to 50 words telling the youth leadership story of your image.
Share the photo on your own Facebook account. Remember to add the tag #AfricaYouthFwd!
The deadline to enter is 11:59pm GMT 7 August 2016. Winners will be announced by 15 September 2016.
One entry per person.
For more information, visit  Future Forward