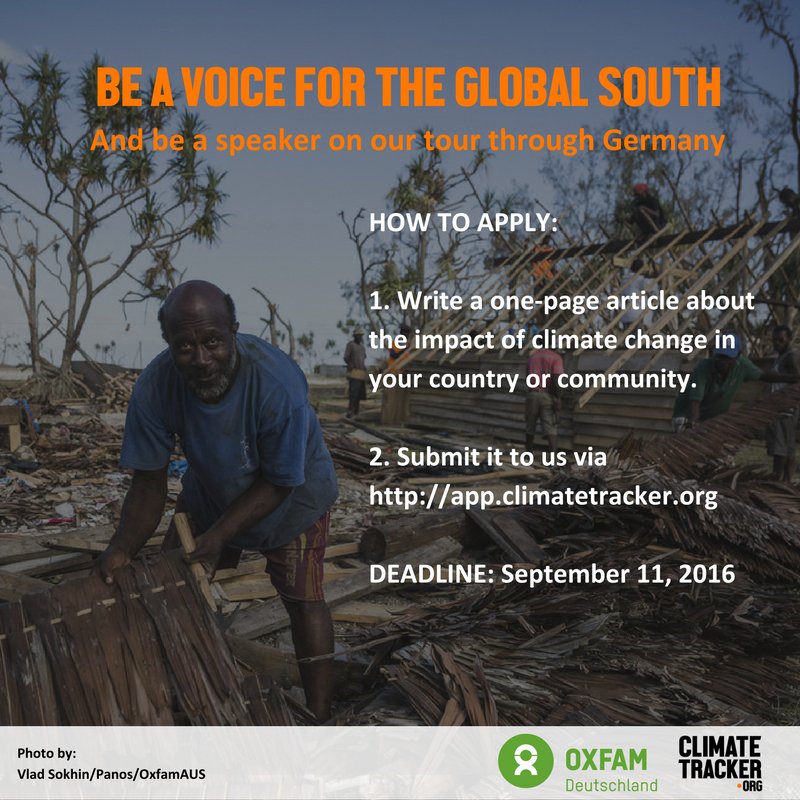 Be a Voice of the Global South and Win a Fully-funded Fellowship to Germany
Dealine: September 9, 2016
Oxfam Germany in cooperation with Climate Tracker offers a unique opportunity: A two week speakers tour through Germany for two climate activists from the Global South. This is a great opportunity to bring your voice to Germany and tell the people about the impacts of climate change in your community and region. The tour will happen in March 2017.
During the tour the two speakers from the South will talk about the impacts of climate change in their own live or community/country at public events and talk to politicians, journalists and climate-activists. Moreover they will visit one of the biggest coal mining regions in Europe and learn more about climate policy and climate-activism in Germany.
Eligibility
Open to everyone from the Global South who fights climate change and its consequences – for example as activists or through other work;
You should speak fluent English and feel comfortable to give presentations and speeches and talk to media;
You also should be available for 10-14 days in March 2017 – that's when the tour will take place.
Application Process
Write a one-page article about the impact of climate change in your country or community;
Submit it here.
For more information, visit Be a Voice of the Global South.