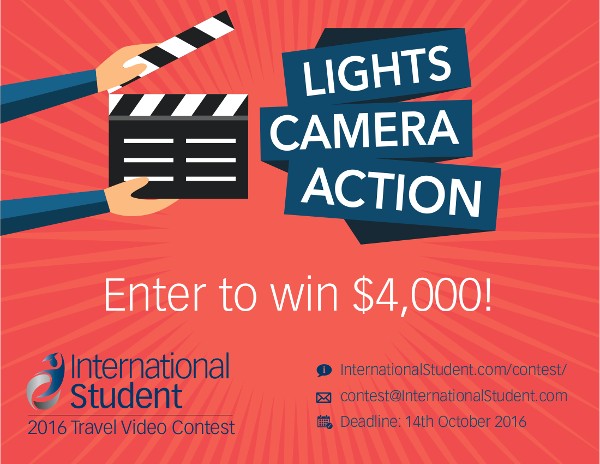 International Student Travel Video Contest 2016
Deadline: October 14, 2016
The 2016 InternationalStudent.com Travel Video Contest is now open for entries. Submit the best video you can make, no longer than five minutes long, where you talk about your proposed international studies. If you're already an international student, the video can tell about any trip you would like to take. Over the years, different kinds of winners have emerged – wonderful animations, creative stop motion films, talented performers, beautiful videography, and simply compelling stories.
Prizes
$4,000 grand prize, a $1,000 Viewers' Choice Award, other runner up prizes, and, of course, worldwide fame.
Cost
The winner will book all his or her own flights and other travel arrangements.
Eligibility
You must be 18 or older and already enrolled or planning to enroll in college or university outside of your home country;
If you are currently studying outside of your home country, your video can describe any trip you would like to take. If you are not currently studying outside of your home country, your entry must describe your proposed study abroad.
The winner will be expected to maintain a blog documenting the trip. This blog will start immediately after the winner is announced, and will continue through the trip until return to school. Contributions are expected at least once a week during the preparation for the trip and daily during the trip;
Originality and interest level in the trip, and creativity and quality of the video, are the main criteria;
Cheating during voting for the Viewers' Choice Winner is grounds for contest elimination.
Application Process
Fill the online application form.
Contest Timeline
Contest Officially Opens: 1 September 2016
Final Submission Deadline: 14 October 2016
Finalists Announced: Week of 7 November 2016
Winners Announced: 18 November 2016

, the last day of International Education Week.
For more information, visit Internationalstudent.com Contest.