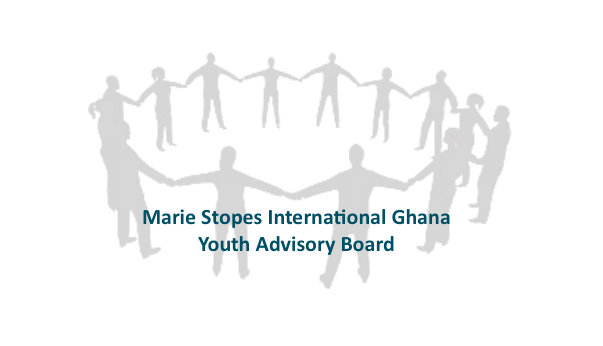 Apply to join the Marie Stopes International Ghana Youth Advisory Board
Deadline: September 20, 2016
Marie Stopes International Ghana (MSIG) is calling for applications from enthusiastic and passionate young people to join its seven (7) member Youth Advisory Board. As part of MSIG's youth strategy, the Youth Advisory Board will work directly with the National Youth Coordinator (NYC) in the implementation of Youth focused programmes.
Members of the board shall represent youth voices of the organisation as part of the organisation's advocacy activities. Board members will advise MSIG on Youth – responsive programmes and activities that can directly help achieve the organisation's youth focused objectives.
Responsibilities
The Youth Advisory Board will among other things:
Advise MSIG on responsiveness/friendliness of youth centred Information, Education and Communication (IE&C) as well as Social and Behaviour Change Communication (SBCC) materials
Work in a team to undertake youth focused activities and projects
Participate in national/regional adolescent and youth focused activities organized by MSIG and/or partners
Support sensitization campaigns in schools and communities
Support the planning and holding of the No Yawa National Youth SRHR Summit
Support in developing youth focused concept papers/proposals
Perform any other related tasks assigned to the board
Eligibility
The ideal candidate should:
Be a young person between the ages of 15 to24 years and resident in Ghana
Have a strong intelligence on Comprehensive Sexuality Education (CSE), Family Planning, Sexual and Reproductive Health and Rights and Safe Abortion advocacy.
Have experience working with youth and youth focused organisations
Must be Pro – Choice
Demonstrate great leadership qualities
Be a team player
Have strong IT skills
Have the ability to engage/lead social media content development
Have good writing and communication skills
Have a strong sense of volunteerism
Be willing to support the organisation's activities in the region of location
Be available to commit to the board's activities and meeting.
Females are especially encouraged to apply.
Application
Interested and qualified applicants should send their applications (i.e., one page letter of motivation and C.V) to [email protected] by 23.59GMT on 20th of September, 2016.
NB: Please note that members of the Youth Advisory Board are not Staff of MSIG. Also note that this position is entirely voluntary.
For more information, visit Marie Stopes International Ghana