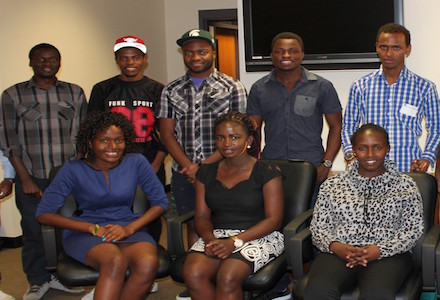 The MasterCard Foundation Scholarship- Michigan State University (Fully-Funded)
Deadline: January 4 (Undergraduate) & February 1, 2017 (Graduate)
Applications are invited for the Mastercard Scholarships at Michigan State University (MSU).The MasterCard Foundation has partnered with Michigan State University to provide full tuition scholarships to undergraduate and Master's degree students from sub-Saharan Africa.
Scholarship Award
The MasterCard Foundation Scholarship provides comprehensive support for the completion of a bachelor's or master's degree. We cover:
Travel costs
Visa and SEVIS fees
Tuition and other MSU fees
Housing, food, and living expenses
Health insurance
Program Scholars are also provided with a laptop and backpack. The Program does not provide support for dependents of Scholars.
Eligibility
The MasterCard Foundation Scholars Program is open to residents and citizens of sub-Saharan African countries. Students who are already enrolled in degree programs in Africa or elsewhere are not eligible for the program.
The MasterCard Foundation Scholars Program at MSU targets students living in sub-Saharan Africa who are economically disadvantaged (ranking in the lower 40 percent in their origin country based on family economic background and income).
Applicants must live on the continent; the only exception is for applicants who are studying outside Africa on a full scholarship and who qualify on the basis of economic disadvantage. To apply, students must be either:
First-time freshmen who have not yet started a bachelor's degree (including those who have done a "gap year" after high school).
New master's scholars who have not yet started a master's degree program. Master's programs must be 2-year programs and begin in the fall semester (August).
Doctoral students, transfer students, and students with dual citizenship in the U.S. and a sub-Saharan nation are not eligible to apply.
Scholars Expectation/Selection Criteria
Students who are accepted to the program demonstrate the following qualities:
Strong academic performance to date in secondary school, suggesting continued academic success as an undergraduate student.
Demonstrated interest and capacity for serving others through engagement in volunteer activities in school and/or community.
Leadership potential.
Ability to cope with change, and interest in other countries and cultures.
Significant financial need and/or from lowest income bracket in country of origin.
Commitment to return to serve home country or region in ways that enhance economic growth and social development.
How to Apply
To apply online, visit here. Please note that all Admissions inquiries should be directed to [email protected].
For more information, visit MSU Mastercard Foundation