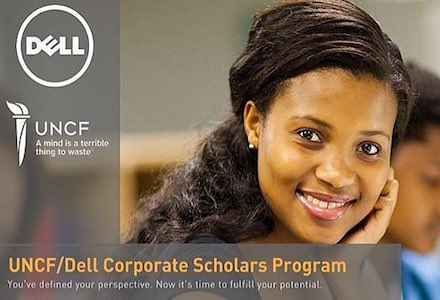 Dell Corporate Scholars Program 2017- Internship at Dell HQ
Deadline: October 2, 2016
Applications are invited for the 2017 Dell Corporate Scholars Program.  The UNCF/Dell Corporate Scholars Program, a collaboration of Dell and UNCF will provide scholarships up to $4,500 (based on need) + internship opportunities for selected students based on the eligibility requirements for the 2017-2018 academic year.
All applicants for the UNCF/Dell Corporate Scholars Program may be considered internship opportunities at Dell. The internship is a paid 10-week 2017 summer internship based at Dell HQ in Round Rock,TX.
Eligibility
Students must possess a minimum cumulative grade point average of 3.0 on a 4.0 scale.
Students must be a minority student enrolled full time at a US located accredited four year institution as a junior application and interview process.
Students must major or have an academic focus in Engineering, Supply Chain Management, Computer Science or Information Technology.
Students must possess a demonstrated unmet financial need as verified by their institution/college (for scholarship award).
Application Process
Complete the Online Application + prepare the following documents for upload (Available July 1, 2016):

A professional resume (be sure to include institution, GPA, graduation date, and relevant coursework and course projects).
A one page statement of career goals and specifically address why they are considering the program and an internship with Dell.
Provide an unofficial transcript with complete academic history through Spring 2016.
Provide two (2) letters of recommendation from a faculty member or administrator.

Shortlisted Candidates will be invited to submit a short online video submission.
Finalists will be invited to participate in telephone interview with hiring managers.
For more information, visit Dell Scholars Program.