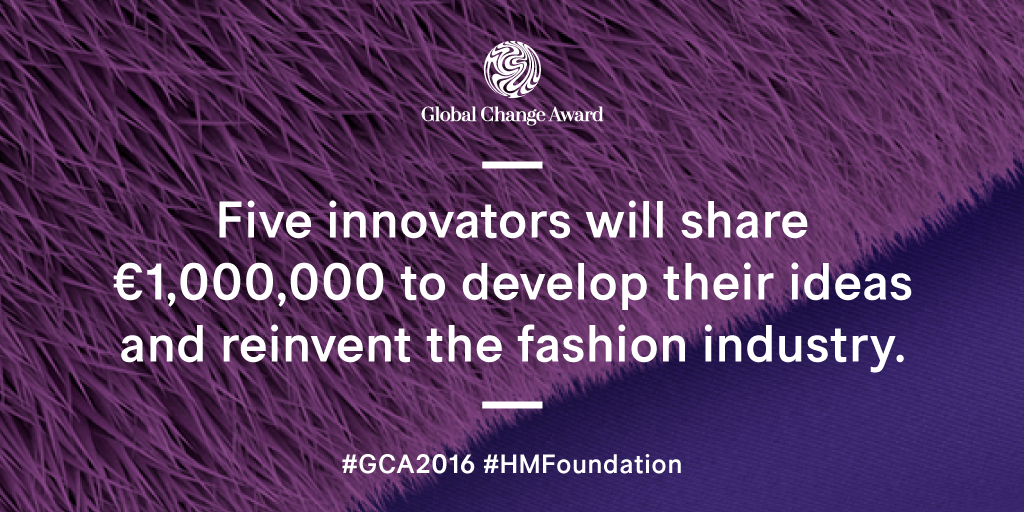 H&M Foundation Global Change Award 2017 – Win a share of €1,000,000 Grant!
Deadline: October 31, 2016
The Global Change Award is open for applications. Apply with your idea on how to make fashion circular for a chance to share the €1 million grant. The Global Change Award is an innovation challenge by H&M Foundation looking for game changing ideas that can make fashion circular – and help protect our planet.
What if you could reinvent the global fashion industry? What if you could help end the take-make-waste cycle and make fashion circular? Five innovators will share €1,000,000 to develop their ideas for a sustainable fashion future.
Benefits
Eligibility
The challenge is open to any individual and groups of up to 5 people over 18 years of age anywhere in the world.
It is also open for institutions, organizations and social business.
Your entry has to be in English and that all communication including the Innovation Accelerator will be in English.
Selection Criteria
The evaluation will be based on the following criteria:
the entry's potential to make fashion circular and thereby protect the planet and lead to improved living conditions for people

how big impact can it have on the fashion industry
is it economically sustainable
can it scale
is it novel
how well suited is the team to make it happen
would winning the grant make a difference
Entry Rules
Please note that your entry should follow the rules below:
Only one entry per participant/group is accepted. Each participant/group can register only once.
Entry must be the applicant's own creation.
Maximum 5 team members, including the team leader.
For group entries, members must nominate a leader and contact person.
How to Apply
For more information, visit Global Change Award.