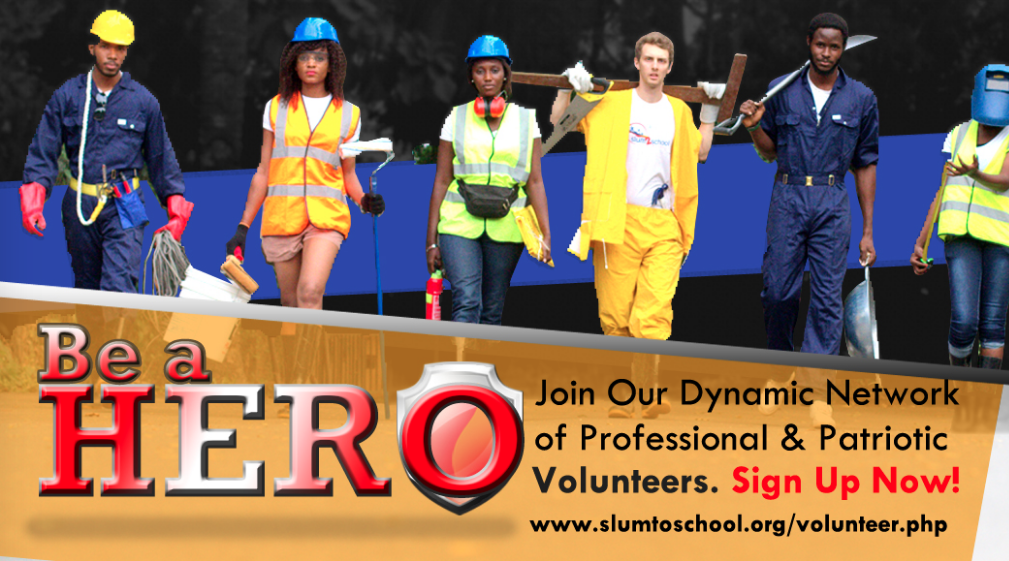 Apply: Slum2School Africa Volunteer Recruitment for 2016/2017
Deadline: November 9, 2016
Slum2School Africa, one of Africa's largest volunteer driven developmental organizations, is currently accepting volunteer applications across the world for 2016/2017. Since its inception, Slum2School Africa has worked with over 5000 volunteers across 25 countries to provide scholarships, create learning centers and provide educational support to thousands of children.
Are you young at heart, passionate about children and desire to make an impact within Africa? Do you have the drive and passion for social development and community service? Apply for the chance to volunteer with Slum2School Africa.
Benefits
An opportunity to make a difference in the lives of little children.
Meet a diverse range of young professionals with a similar interests.
Be a part of the reputable Slum2School Africa network.
Learn new skills and Boost your Career options
Eligibility
Be within the ages of 18-35years from any part of the world.
Be Passionate about Children and community development.
Slum2School is seeking individuals who are willing to offer their talents, creativity, and skills to help make a difference in the lives of disadvantaged children and underserved communities across Africa.
Application Process
Kindly complete the online application via www.slum2school.org/volunteer
Sign up today and join @Slum2School as they bring hope to every child. #Slum2School #Slum2SchoolAfrica #iVolunteer
For more information, visit Slum2School Africa.