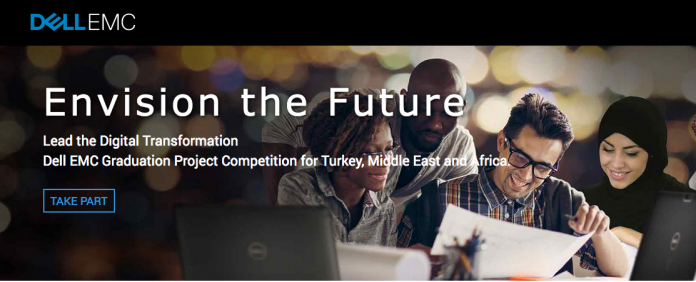 DELL EMC Graduation Project Competition 2017
Deadline: November 30, 2016
Dell EMC is launching the annual graduation project competition for senior undergraduate students from universities in Turkey, Middle East and Africa who are enrolled in the EMC Academic Alliance Program. The competition is intended to spark the creativity of students for their graduation projects to play an active role in the Transformation of IT and get the opportunity to shine and win prizes.
Prizes
The first place winner will receive a cash prize of $ 5,000
  The second place winner will receive a cash prize of $ 4,000
  The third place winner will receive a cash prize of $ 3,000
A formal award ceremony will be organized at one of Dell EMC events in the region. The winning team and their mentor(s) will be invited to attend the ceremony along with officials from their institute.
Eligibility
Students who wish to participate should be in their senior year and should be enrolled with any of the EMC Academic Alliance Institutes of the Middle East and Africa;
Students should have a faculty member as their mentor;
Students should have a strong academic position validated by the Head of the Department;
The authenticity of the information provided by the students should be validated by the Dean of his/her institute;
Students should be listed in only one project;
Students should be unemployed and fulltime university students.
Selection Criteria
Submitted abstracts will be evaluated based on Relevance, originality, significance and expected contributions and impact. Afterwards, the shortlisted projects and teams will be notified to proceed to the next phase of 'Project Design Layout Submission' followed by 'Final Project Submission' for the selection of the winners.
Application Process
Application begins here!
Competition Timeline
Project Abstract Submission – 1st November 2016 till 30th of November
Announcement of Shortlisted Projects – 10th January 2017
Project Design Layout Submission – 06th of April 2017
Final Project Submission – 2nd July 2017
The Winners Announcement – 4th September 2017
For more information, visit Dell EMC Competition.