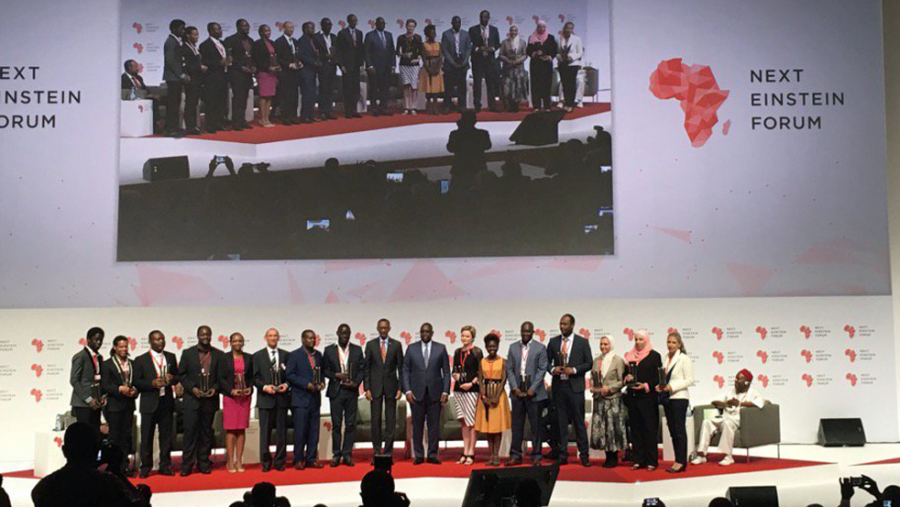 Next Einstein Forum Fellows Programme 2017/18
Deadline: January 27, 2017
The Next Einstein Forum is an initiative of the African Institute for Mathematical Sciences (AIMS) in partnership with the Robert Bosch Stiftung. The NEF is a platform that connects science, society and policy in Africa and the rest of the world – with the goal to leverage science for human development globally.
The NEF's Fellows Programme consists of Africa's most brilliant young scientists that the NEF showcases on the global stage. The programme provides these brilliant young minds with the opportunity to present their research and draw upon the vast networks of NEF members and participants for support, connections and advice to advance their work.
Benefits
Attend the prestigious, invitation-only NEF Global Gathering 2018 in Kigali, Rwanda, in March 2018 alongside: Nobel Prize winners; experienced and emerging scientists; Heads of State; and representatives from leading global corporations and civil society organisations.
Research and innovations will be showcased as an example of the potential of young, exceptional scientific talent in Africa.
Collaborate with, receive mentoring from and partner with leading scientists, policy-makers, industry representatives and civil society leaders, as well as other exceptional young African scientists.
Contribute to the establishment of a positive global view of science in Africa.
Application and programme participation are completely free.
Eligibility
Be 42 years of age or less as of December 31, 2017 (born after January 1, 1975)
Hold a passport from an African country
Hold a PhD in Science, Technology, Engineering, Mathematics or in a field of the Social Sciences and Humanities
Have demonstrated track record of research/findings that have global impact
Are passionate about raising Africa's profile in the life of natural sciences, engineering, the social sciences or the humanities and
Are able to clearly present their work to an audience in English or French
Application Process
Download the application form in English or French. All applications are submitted by email to [email protected] in English or French.
The application form will request the following information from you:

Contact information
CV, uploaded as PDF
Photograph (face and shoulders only and must be high resolution)
A 2-3 minute recorded video responding to the three points below. The video does not have to be professionally done (it can be taken with a camera or phone, for example) but the picture and sound should be clear. Please note that a clear and well presented video will positively impact your application. Your video must be uploaded to YouTube and the (public) link placed on the application. You must respond to the following:

Tell us about yourself
Tell us about your previous research clearly demonstrating impact – both locally and globally
Why should you be a NEF Fellow

Very brief answers to the following questions (250 words max for each) on the application form:

If selected as a NEF Fellow, how would you use this opportunity?
What three (3) research questions do you want to know the answers to? Alternatively, please give brief details of a major breakthrough or innovation in your field that you have led or are in the process of finalizing.
Which three (3) leaders in your field, or thought leaders in general would you want to bring on stage with you at the NEF Global Gathering 2018 and why?

Name and contact information of two referees who can speak to your professional experience, character and potential.
Please provide CV and application in PDF format named in the following way: Last name, first name-country
Important Dates
Applications open – 15 November 2016
Applications close – 27 January 2017
Pre-selection – February 2017
Final Selection by SPC – March 2017
Publication of results – 15 June 2017
For more information, visit NEF Fellowship.