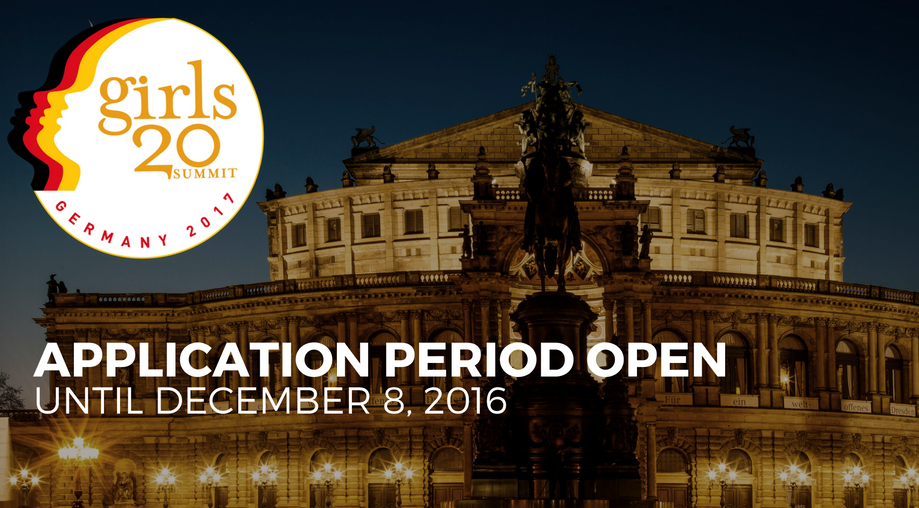 8th Annual G(irls)20 Summit in Germany 2017 (fully-funded)
Deadline: December 8, 2016
Applications are now accepted for the 2017 G(irls)20 Summit taking place in Germany in June 2017. G(irls)20 places girls and women at the heart of the economic decision making process by advancing the idea that increasing female labour force participation will generate growth, stabilize communities and countries, and lead to social innovation. Designed G20 style, the G(irls)20 Summit brings together one delegate from each G20 country, plus a representative from the European and African Unions, Afghanistan, Pakistan and the MENA region.
During the Summit, delegates attend skills building workshops (entrepreneurship, financial preparedness, communications, digital literacy, leadership, etc.) participate in panel discussion with local and global experts, and then produce a communique with tangible, scalable solutions towards increase FLFP. The communiqué is presented to G20 Leaders for their consideration.
Benefits
The following will be provided to all G(irls)20 Summit Delegates:
Summit learning materials and supplies;

Return economy air travel arrangements, from the closest international airport to the delegate's home to Germany;
Accommodations while in Germany (in transit accommodations to be covered by the delegate);
Meals – breakfast, lunch, dinner and refreshments each day;
All ground transportation while in Germany.
* Please note: it will be the responsibility of the delegate to arrange her own ground transportation to and from her home and the airport, as well as acquiring a passport and/or visa (some countries will require a visa).
Eligibility
To be considered, applicants must be:
A young woman aged 18-23 years at the time of the Summit (June 2017); and
From a G20 Country, European or African Unions, Pakistan, Afghanistan, or able to represent the Middle East/ North Africa (MENA) region.
Other requirements
The applicant:
Will provide consent to appear in any and all media
Will commit to launching a post-Summit initiative/project in her own community
Lives in and holds citizenship in a G20 member country, Afghanistan, Pakistan, the African or European Unions, or the MENA region
Is proficient in the English language for all verbal and written communications
Has parental or guardian permission to travel to Germany and to fully participate in the summit for the duration of the Summit (This may require absence from school)
Has an interest in the economic advancement of girls and women
Has or can obtain a valid passport and visa for travel no later than February 28, 2017
How to Apply
Review the Instructions and Checklist: Review this to ensure that you have all the necessary documentation prepared when you start your application.
Complete the Delegate Application: The delegate application questionnaire has 11 questions that must be fully answered in order for the application to be considered.
Reference Form: To be completed by school official, NGO sponsor or community organization who has known the applicant for at least 1 year. (No relatives.)
Commitment Form: Review and sign the Delegate Commitment Form before you apply to represent your country at the 2017 G(irls)20 Summit.
NOTE:
Applications will be reviewed by the G(irls)20 Global Advisory & Partners. Two finalists from each country will be selected and contacted in early January, 2017. Phone interviews will be held shortly thereafter. Only those selected for an interview will be contacted; and 2017 G(irls)20 Summit Delegates will be announced by the end of January, 2017.
For more information, visit G(irls)20 Summit.