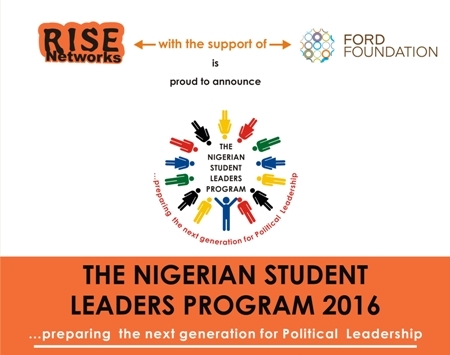 RISE Networks Nigerian Student Leaders Program 2016
Deadline: December 7, 2016
Are you a Nigerian University student actively involved in campus politics and currently holding an elected position within your school? RISE NETWORKS with the support of FORD FOUNDATION hereby calls for applications from change driven, impact oriented student leaders from across tertiary institutions in Nigeria for the Nigerian Student Leaders Program 2016.
The program aims at identifying and equipping promising student leaders of good character in Nigerian tertiary institutions with the potential for future public service with requisite leadership skills rooted in ethical and effective representation and to promote robust youth participation in Nigeria's political system. A total of 20 high impact student leaders will be selected across Nigerian Tertiary Institutions.
Cost
Feeding, accommodation and return travel will be covered for all selected fellows;
Fellows will also receive certificates of honour upon completion of the entire training exercise.
Eligibility
Open to Nigerian students who are part of the leadership in their School's Students' Union Government, Faculty Executive Council, Departmental Association's Executive Council and Hall of Residence Executive council;
Both male and female are welcome to apply.
Application Process
You can either be nominated by yourself or another student in your school. Fill the registration form and upload your manifesto of not more than 1000 words stating specific actions you will take to change the lives of citizens in your locality, constituency, senatorial district, state or country when you get elected into public office. Your manifesto must be focused and actionable. Upon selection, fellows must be willing and ready to attend and complete all modules and sessions in the bootcamp which will hold in Lagos, Nigeria throughout its entire duration.
Application Timeline
November 30 – December 7: Call for applications
December 7 – 8: Selection process commences and shortlisted fellows are contacted by Rise Networks
December 11 – 17: The Bootcamp holds
For more information, visit RISE Networks Nigerian Student Leaders Program.