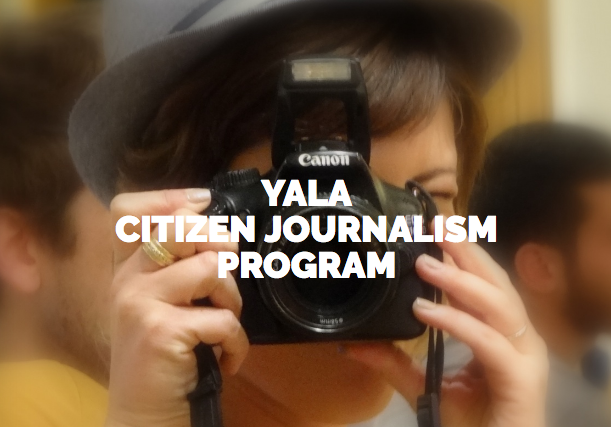 YaLa Academy Citizen Journalism Program 2017
Deadline: January 1, 2017
The YaLa Academy's Aileen Getty School of Citizen Journalism invites application for the 2017 YaLa Academy Citizen Journalism Program. This is a 4-month online training program (starting in March 2017) featuring journalists and new media experts from the New York Times, the Associated Press, Facebook & more!
The YaLa Academy's Aileen Getty School of Citizen Journalism brings together leading journalists and new media experts to train Middle Eastern and African youth in basic journalism techniques, photo- and video-journalism and 21st Century activism. Building upon an initiative launched in 2014 in partnership with the U.S. Institute of Peace, this online program is a unique combination of new media training and peacebuilding experience.
Program Benefits
The Aileen Getty School of Citizen Journalism trains 400 youth (aged 17-36) per year through a one-of-akind interactive online classroom incorporating video lectures from top journalists, new media experts and regional bloggers, live online discussions and peer-to-peer learning on assignments
During the 4-month program, you will be asked to take part in online chat sessions about the video lectures (every other week), to participate in a private Facebook working group where the 4 mandatory assignments are posted and reviewed, and to regularly check your emails. You will be in touch with a Coordinator who will help you work on your assignments and go through the training. Throughout the program, you will learn how to create written and audio-visual content about the issues important to you – such as gender, identity, culture, social justice, coexistence, etc.
The best pieces created during the program will be published on YaLa Press and select pieces will also be featured on YaLa's Huffington Post column. Participants completing the program will earn a certificate from YaLa Academy & the Aileen Getty Foundation and will have the chance to be selected for a final workshop at the Dead Sea!
Eligibility
Participants must come from, or live in, Israel, Palestine or another country in the Middle East or Africa
Participants must be between the ages of 17 and 36.
Application
It's time to share stories with young people from across the region and join a network of activists using social media to promote understanding and important social causes – become a YaLa Citizen Journalist!
For more information and to apply, visit YaLa Academy.