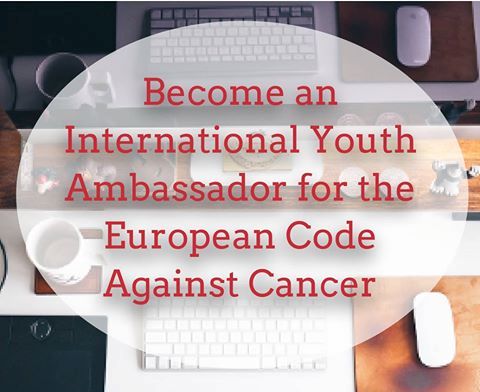 Become an International Youth Ambassador for the European Code Against Cancer
Deadline: April 30, 2017
Apply now and become an International Youth Ambassador for the European Code Against Cancer and share your passion about preventing cancer with peers across Europe.ECL is a pan-European umbrella organisation of national and regional cancer leagues.  Since 1980, they have been providing a unique and important platform for cancer societies. From Iceland to Turkey, ECL is represented by leagues in the extended Europe.  Together, they are "making a Difference in Cancer Prevention and Control!"
The programme aims to:
to understand, from young people themselves, what works and what doesn't work when communicating cancer prevention messages;
to harness the networks of each youth ambassador to disseminate the recommendations of the European Code Against Cancer;
to offer training and support for youth ambassadors to enable them to develop their health advocacy skills encourage the sharing of knowledge and experience between youth ambassadors.
Eligibility
Open to young people aged 18-35
Applicants should be passionate about preventing cancer and want to share this enthusiasm with their peers across Europe.
Application Process
For more information, visit ECL Facebook Page or Association of European Cancer Leagues.