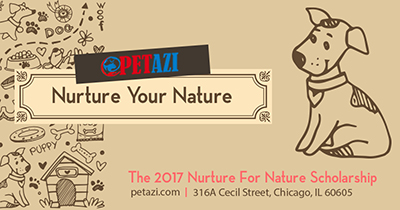 Nurture For Nature Scholarship 2017 (Amount up to $1,200)
Deadline: June 30, 2017
If you are a student who really care about animals and would like to contribute in making the planet a better place for them, then here is the perfect opportunity. Simply share an inspiring story about animals with Petazi and they'll share it with the rest of the world. The Nurture for Nature Scholarship was created as a mission to share inspiring stories about animals and pets in particular. The main goal is to make this world a better place by increasing people's awareness for protecting animals.
Environmental pollution is posing a serious threat not just to humans, but also to every other living thing on earth. In fact, its alarming effects are becoming more dangerous every day. That is why we must immediately make an effort to do something about it!
Award
There is one annual Scholarship that is awarded to one candidate. The amount of the Scholarship is $1,200.00
Eligibility
Applications are accepted from only students located in the US and Canada.
Application Process
Candidates can submit applications in two convenient ways:
Submit any inspirational/interesting short story about animals:

It should ideally be your own story, meaning something that you experienced firsthand
Should contain at least 300 words and include a title
Must be your own and unique writing (do NOT copy as entries will be checked for plagiarism)
You can use images or videos, but clearly cite the source
Important Dates
June 30, 2017: Application Deadline
July 1, 2017: Counting Begins
July 30, 2017: The award will be announced
For more information, visit Nurture For Nature Scholarship.