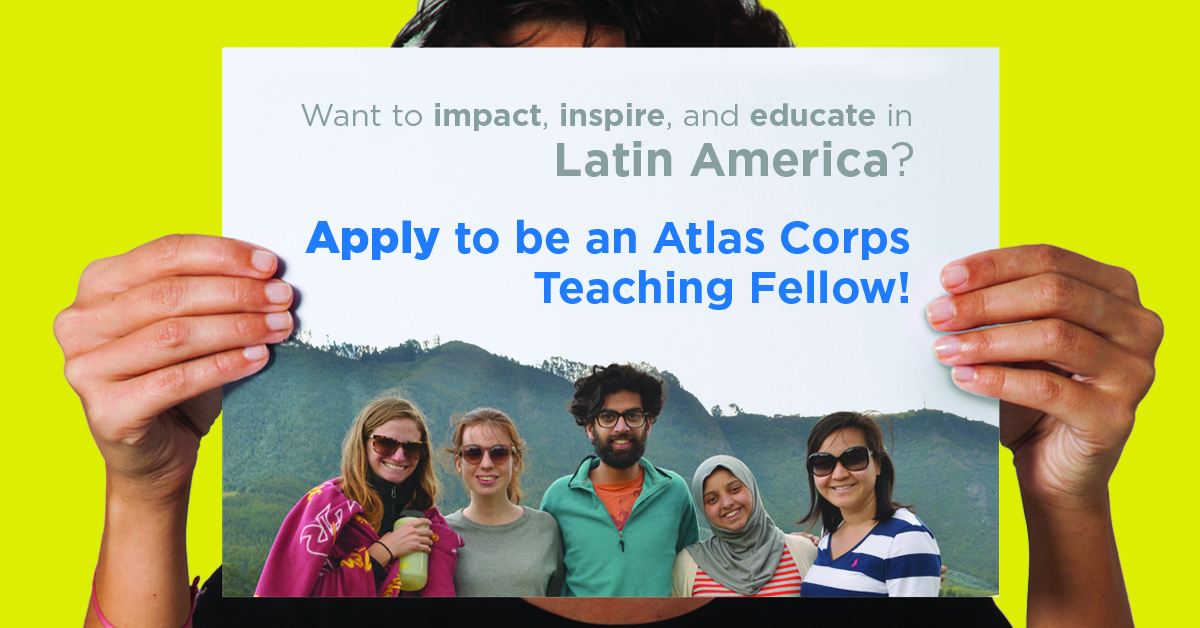 Atlas Corps English Teaching Fellowship in Latin America 2017
Deadline: April 3, 2017 (Priority) / June 2, 2017 (Final)
Do you want to impact, inspire and educate in Latin America? Interested in international development and increasing social mobility? Are you ready to join a global network of inspired individuals? Then apply for the the Atlas Corps Teaching Fellowship! The fellowship is an English teaching opportunity for emerging professionals. The opportunities offered are a collaboration between Atlas Corps and two other partners in Latin America – Heart for Change and Volunteers Colombia, who work with different governmental agencies in Colombia and other countries – from nationwide Ministries of Education and public schools to local vocational training programs. Through this collaboration, Atlas Corps mission is to facilitate the development of a prosperous Latin America where children and youth have the opportunity to receive a high-quality bilingual education.
The program offered in Colombia specifically is the country's largest bilingual program. In its first year, 350 Fellows taught alongside 1,050 Colombian teachers, strengthening English education for nearly 98,000 public high school students in 33 cities. Today Fellows teach English in 38 different Colombian cities. Atlas Corps Teaching Fellows learn leadership skills in an international context while advancing English language skills in youth. The benefits of this prestigious fellowship include a living stipend, general and TEFL teacher training, ongoing professional development, and engagement in the global Atlas Corps network of over 500 leaders from 80+ countries!
Cost
$400 Program Deposit (returned upon completing Fellowship);
International health insurance (~$300);
Round trip ticket (cost depending on location)
Benefits
1,500,000 monthly COP stipend;
Two-week orientation, including extensive training in pedagogy/TEFL and training on logistics related to living in Latin America (visa, identification, bank accounts, mobile phones, and more);
Courtesy visa and ID;
Local medical insurance;
Transportation from Orientation to your placement city;
24/7 support from Regional Coordinators and staff;
Certificate of program completion;
Bonus upon completion of the program;
Atlas Corps specific benefits!
Eligibilty
Bachelor's degree or equivalent;
Clean Background Check;
Age range of applicants is 21 to 50;
English language skills, at native language proficiency or C2 level equivalent:

They require English level proof for non-native speakers in the form of test results from either Cambridge, IELTS or TOEFL. (They do not accept TEFL or CELTA certificates as proof of English level)
Below are the qualifying scores:

Cambridge: C2
TOEFL: 96+
IELTS: 7.5+

Spanish language skills, at basic level or higher (All levels of Spanish are encouraged to apply);
High level of flexibility and adaptability;
Interest and enthusiasm for serving in an educational environment (Atlas Corps will provide the methodology, you provide the inspiration and energy).
Application Process
Here is the general overview of the Application Process, but please read ALL the steps by clicking this link: Process and Procedures – Atlas Corps Teaching Fellowship
Online Application: You will need to create a login, and you can save your responses so you can return to the application at any time. The application consists of background information, a personal biography, and a transcript or certificate. Again, this application allows you to be considered for any of the opportunities in Latin America, and you'll be able to indicate your preference on the form;
Review Process: Applications will be reviewed by the Atlas Corps Selection Board. Atlas Corps and partners in Colombia will both conduct Skype interviews. Their partners will then make their final recommendations to Atlas Corps, and Atlas Corps will notify the selected candidates;
Pre-Arrival Process: After being selected and confirming their spot, candidates will receive information about what other logistical documents they need to send in, as well as visa support if applicable.
For more information, visit Atlas Corps Teaching Fellowship.