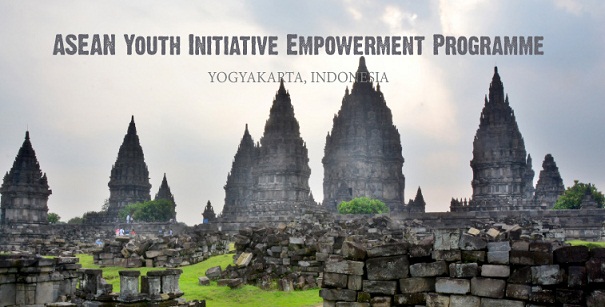 ASEAN Youth Initiative Empowerment Program 2017
Deadline: May 31, 2017
ASEAN Studies Center Universitas Gadjah Mada will hold an annual Program in Yogyakarta with a new and fresh topic "Digitalizing ASEAN: Fostering Community through Digital Connectivity". AYIEP 2017 is a 7-days short-course program held by the ASEAN Studies Center, Universitas Gadjah Mada. They are calling Young Future Leaders from ASEAN and other countries to get involved in this knowledge exchange experience. From July 23-29, 2017, delegates will be fueled by series of activities which will enhance their digital comprehension across the region. Organizers shall connect ASEAN in digital era in three key pillars: digital diplomacy, digital activism, and digital citizenship. Feel the hype and meet digital experts in Yogyakarta this summer!
Cost
The program is partially-funded  for selected participants from CLMV Countries.
Benefits
To develop the participants' interest in the issues of Digital, ASEAN and its impact to ASEAN Community;
To network ASEAN Future leader from the diverse backgrounds and institutions across the region;
To increase the awareness of ASEAN young future leaders in particular subthemes, such as Digital Diplomacy, Digital Activism and Digital Citizenship;
Being involved in Digital Visitation and Excursion Exchange culture with other international students;
Get opportunity to interact with several speakers from various fields who have been working in the related themes which provide diverse perspectives from practitioners, bureaucrats, and academia.
Eligibility
Applicants should be between the ages of 17 and 25 at the time of application;
A citizen of one of the following countries: Brunei, Cambodia, Indonesia, Laos, Malaysia, Myanmar, Philippines, Singapore, Thailand, and Vietnam; Youth outside ASEAN countries are also encouraged to apply;
Applicant must have a good command of written and spoken English;
Applicant should have interest in related issues on the program: digital diplomacy, digital activism, and digital citizenship issues;
Applicant is willing to work in team during the program;
Applicant is having willingness to share the knowledge in their home country as a post program output.
Application Process
Interested applicants should proceed to apply here!
For more information, visit ASEAN Youth Initiative Empowerment Program.