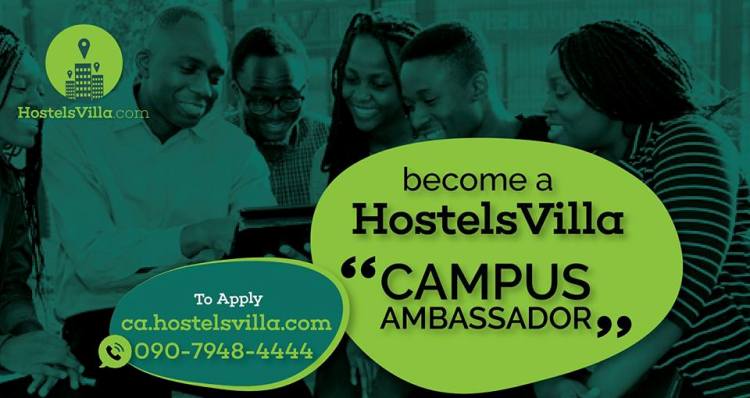 Become a HostelsVilla Campus Ambassador
Deadline: May 31, 2017
It is no news that HostelsVilla.com have been hacking the student accommodation space in Nigeria. They have been making off-campus hostels available for search and booking online. They've also helped students to find roommates across several campuses in Nigeria. What is however news is that as part of activities to increase their inventory of hostels as well as take the HostelsVilla message to all and sundry, they are giving students the opportunity to become our Campus Ambassadors across various campuses in Nigeria.
They're looking for students who are goal oriented and passionate about the problem HostelsVilla is solving. Campus Ambassadors are to promote the HostelsVilla brand in their school by way of hosting campaigns, directing students faced with the dearth of on-campus accommodation to the HV platform as well as work with HV Field Representatives or alone in signing deals with hostel owners/agents to use their platform.
Benefits
Campus Ambassadors could benefit in so many ways.
Internship Opportunities at HostelsVilla
Monthly Stipends
Pay per input i.e referrals
Branded kits
Eligibility
You must be a student of in a recognized Nigerian higher institution;
You must be computer/technology savvy;
Be ready to work with a team;
Be ready to learn new skills;
Be ready to have fun.
Application Process
Applicants are required to complete the online application form.
For more information, visit HostelsVilla Campus Ambassador.