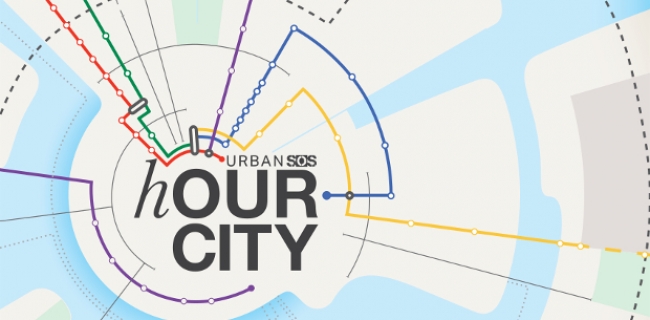 Urban SOS Student Ideas Competition 2017 (US$15,000 in prize money)
Deadline: July 17, 2017
hOUR City, this year's Urban SOS Student Ideas Competition, calls for multidisciplinary teams to focus on challenges associated with three deeply intertwined systems — housing, transportation, and economic development — that fundamentally influence the quality of life in a given region. Teams should propose design, planning, policy, and other strategies that address unequal access to opportunity by offering people better options for where to live, how to move around, and how to make a living.
The challenge asks you to imagine
Multidisciplinary approaches that marry design, planning, business, engineering, policy, or other kinds of expertise to produce strategies that could increase the production or preservation of high-quality affordable housing;
How increased mobility can offer greater access to jobs, affordable housing, markets, services (e.g., healthcare, education), and other opportunities or resources;
Economic development strategies that can be broadened to offer opportunities to a wider range of people (e.g., with limited skills and education; living in remote, rural areas;
A combination of housing, transportation, or economic development strategies that complement each other to improve people's quality of life.
Prize
A total of US$15,000 in prize money will be distributed among the finalist teams, and the winning team will receive up to US$25,000 of in-kind support from AECOM to implement a pilot of their proposal.
Eligibility
The competition is open to undergraduate and graduate students at all levels of higher education around the world;
You must be enrolled in a certified program during the 2017–2018 academic year at Bachelors, Masters, or Ph.D. levels;
Students graduating before the final jury meeting in late January 2018 are not eligible to enter the competition; students graduating after this date are eligible to enter.
Application Process
All applicants are strongly encouraged to pre-register their interest here by leaving a contact email address before June 28, 2017. Pre-registration ensures that you receive all relevant updates.
All entries are due by 11:59pm EDT on July 17, 2017. Your entry must include:
Site analysis, and innovative and implementable strategies that demonstrate multidisciplinary thinking, and that strengthen the connections within urban communities or between urban and outlying communities, as described in the evaluation criteria;
A brief description (100-250 words) of your proposal. Clearly state the name of the city and specific location within that city where your design would be implemented;
The name(s), university, degree program(s), and contact information of all team members;
Site coordinates (via Google Earth) of the location, or an address that is searchable on Google Maps;
A slide presentation of up to 10 slides in Adobe Acrobat PDF format. These must be landscape in orientation, and include images and/or text. There is no word limit but font size must be legible when printed at A4 paper size. Each file must be no larger than 10MB;
All entries must be in English, with any measurements provided in metric units;
You may include photographs, diagrams, drawings, renderings, collages or other visualizations to represent your solution(s);
Proposals must be uploaded using the submission link on aecom.com/urbansos by 11:59pm EDT on July 17, 2017.
Entrants will receive a confirmation that the files have been uploaded and should retain this confirmation for reference;
Failure to comply with any of these submission requirements will result in immediate disqualification.
For more information, visit Urban SOS Student Ideas Competition.