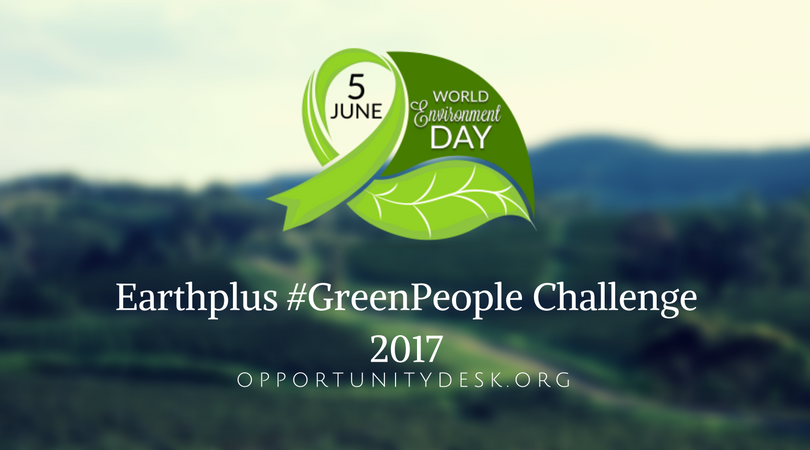 Earthplus #GreenPeople Challenge 2017
Deadline: June 4, 2017
Ahead of World Environment Day 2017, Earthplus, a global non-profit committed to environmental sustainability especially in Africa is launching an Africa-wide environmental video challenge for young people between the ages of 15 and 30. The challenge is supported by the current Miss Nigeria, Miss Chioma Obiadi as part of her Green Girl Project. There are fantastic prizes to be won.
With the surge of technological advancement and fast-paced lifestyles, there has been a detachment for many of us from our natural environments. Activities like hiking, swimming, taking walks, gardening and cycling are no more as popular. We literally do not stop to smell the roses. This challenge, in line with the theme of WED 2017 aims to once again connect young Africans to nature.
Prizes
Grand Prize winner gets $50 and one year ambassadorial programme with Earthplus;
2nd place winner gets a T-shirt AND 25 Stickers from Care About Climate USA
3rd place winner gets 25 stickers from Care About Climate USA
All three winners will to be featured on The Huffington Post and in the Earthplus Pre-Bonn Climate Poetry video for COP23 in Bonn, Germany.
Eligibility
Open to Africans from one of the African countries (regardless of where you currently live);
Applicants should be between the ages of 15 and 30.
Judging Criteria
Entries will be judged based on the following:
How endearing your natural environment is
How well you connect to the environment and what it means for you
What world Environment Day means to you
How realistic, innovative and creative what you would do to connect people to nature is
How to Apply
You can enter in three quick steps:
Take a video of yourself in any natural environment (Be it the beach, zoo, farm or any outdoor environment). In the video, tell Earthplus:

Your name and what country you are from
That you are taking the video for the Earthplus Green People challenge
Why you chose that natural environment and what the place means for you (If there are any childhood memories, please let them know)
What World Environment Day means to you
What you would do to connect people to nature, going forward.

Upload the video on You Tube with the hashtag #GreenPeople
Share the link on your social media handles with the hashtag #GreenPeople and send the link and a screen shot of one social media platform you shared it on to

[email protected]
Please note that all videos must be in English. If in any other language, please provide subtitled translations.
For more information, visit Earthplus #GreenPeople Challenge 2017.