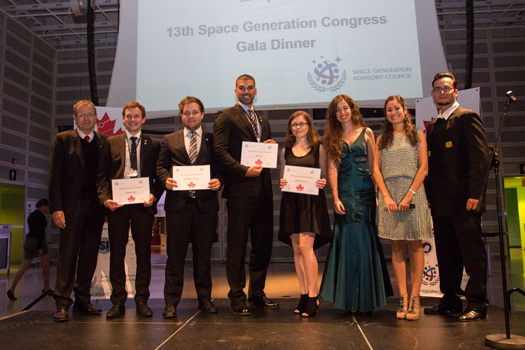 Apply for the DLR Standout Student Scholarship 2017
Deadline: June 15, 2017
Since 2007, the German Aerospace Center (DLR) has supported German students to attend the Space Generation Congress (SGC) and the International Astronautical Congress (IAC). Through the partnership between SGAC and the DLR, this scholarship programme is once available again for the 15th Annual Space Generation Congress from September 21 – 23, 2017 and the 68th International Astronautical Congress  from September 25-29, 2017 in Adelaide, Australia. This scholarship will be selected by the SGAC and DLR to award 2 German university students who demonstrate outstanding activity and motivation in the space sector.
Selected students are required to support the running of SGC and the SGAC booth at IAC. Examples of tasks could include being the rapporteur of a SGC Working Group, helping with writing a group report or helping at the SGAC booth at IAC. They will also have to work together to produce a written report covering the SGC and IAC within two weeks after the events to be published on DLR PR channels.
Award
The winners will receive an award of 1200 EUR in order to attend SGC 2017 and IAC 2017 in Adelaide, Australia. The award will partially cover the expenses for the flight, accommodation and conference registration fees in Adelaide. The winners have to take responsibility for additional expenses;
The scholarship is provided to the winners after all activities and responsibilities are satisfied.
Eligibility
The scholarship is open to all university students of German nationality;
All applicants must be SGAC members 35 years of age or younger by September 25, 2017;
The scholarship winners will be positive representatives of the German space generation and this DLR scholarship during SGC and the IAC.
Application Process
Applicants are asked to submit their CV with date of birth and a headshot photo, and a short letter expressing your motivation of up to 1000 words;
All the submissions have to be merged into one single document (unlocked PDF under 5 MB) and submitted via the Scholarships Submission Page. You will need to be logged in as an SGAC member to access this page.
Timeline
June 4, 2017: Paper Submission Deadline
June 26, 2017: Winners announced
September 21-23, 2017: Space Generation Congress
September 25-29, 2017: International Astronautical Congress
For more information, visit DLR Standout Student Scholarship.