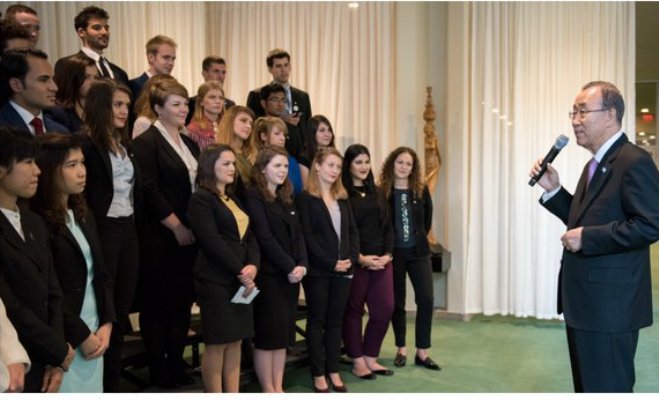 UN Youth Delegate Programme for Ireland 2017-2018
Deadline: June 27, 2017
The National Youth Council of Ireland, together with Irish Aid and the Department of Foreign Affairs and Trade, are delighted to announce the call for applications for the United Nations Youth Delegate Programme for Ireland 2017 – 2018 which will support two young people to join Ireland's delegation to the United Nations in New York in September/October 2017 and January/February 2018.
The aims of United Nations Youth Delegate Programme Ireland are:
To directly involve young people from Ireland in the international development policy and decision-making agenda;
To hear and include the voice of young people on development and global citizenship issues at local, national, and international levels;
To promote development and youth policies among young people in Ireland;
To familiarise young people in Ireland with global development issues and opportunities for involvement they have in this regard;
To support global citizenship activities and development initiatives in Ireland.
This Programme will support young people to be agents of change, where they are empowered to be active global citizens contributing to building a world of justice, equity, and dignity.
Eligibility
Applicants should be:
Between the ages of 18 – 25 years (on June 27

,

 2017);
Committed to giving a significant time to this Programme;
Interested in policy making and writing, capable of digesting lots of information and quickly turning around policy papers;
Committed to using blog/video/social media posts and writing articles to inform others;
Curious about the world;
Experienced public speakers;
Digitally engaged and tech-savvy for online communications with others;
Able to travel to Brussels in August 2017;
Able to travel to New York for up to a month September/October 2017 and February 2018 (TBC);
Interested in international affairs, particularly in the area of development and youth affairs;
Passionate about solving today's most pressing problems and working to engage young people in this important agenda;
Resident of Ireland;
Available for interview July 2017.
Application Process
All information must be in one word document or PDF and submitted via email to [email protected] by 5pm on June 27, 2017. The title of the email (subject) should read: "UN Youth Delegate Application 2017 – 2018" and include your name.
Your application should include the following:
Personal/Contact Details:

Your Last Name, First Name
Contact address
E-mail address
Phone number
Social media details (if any)
Language skills
Special Needs

Brief Statement on:

Your educational qualifications/experiences
Your work experiences
Your volunteer experiences
Extra-curricular activities/hobbies

Letter of Motivation
Recommendations/References
Applicants Declaration
For more information, visit UN Youth Delegate Programme for Ireland.