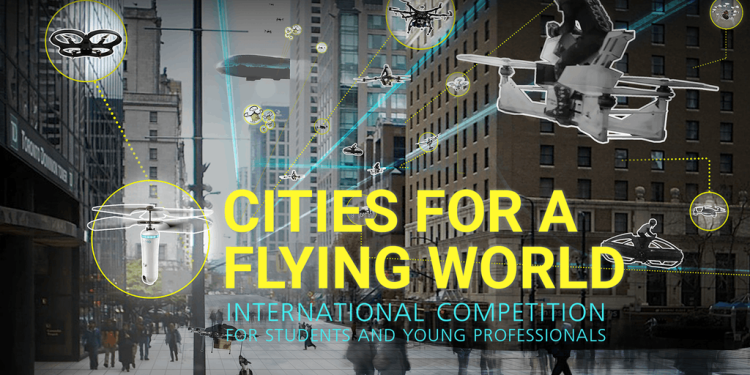 Cities For A Flying World International Competition 2017
Deadline: October 16, 2017
HSE Graduate School of Urbanism is launching the first international contest for students and young professionals 'Cities for a flying world'. The aim of the competition is to promote discussion and research in order to generate insights and visions about the city to come, and to contribute to the development of flying technologies that will transform our environment in future. The contest will take place from May 29 to November 7, 2017 and it is a part of the new master's programme of the Graduate School of Urbanism Prototyping future cities: city and technology.
The competition programme challenges participants to design a project related to the future of cities when flying technologies are widespread. Humanity is trying to achieve new heights and transform the air into the new ground. Even though people already know how to fly, how will the world change when flying devices are everywhere? Who would be new pedestrians in a city of self-driving vehicles and how will social life be changed? What will happen when a window of a house becomes a door to your flying car? There are a lot of scenarios presented in books and the movies about future of cities, but a future like this is coming soon.
Topics
Participants will be free to decide on the subject, scale and location of the project. Proposals could answer (but are not limited to) the following questions:
What will cities look like when citizens have flying vehicles?
How will buildings change if the roof or the window becomes a new entrance? Can buildings be built from top down?
What will public transport using flying technology be like?
How will deliveries by drone affect city communications?
How will life be improved in poor neighbourhoods by drone technology?
Will zeppelins be used in aerial leisure or logistics?
What will the flying cars of the future look like?
How could new modes of vertical transportation impact the development of cities?
Could there be aerial zeppelin communities and how will they be organised?
Participants can develop a project for a new city, new building, new device, new social platform or a mix of all of the above. They are looking for the best proposals with ideas for the world to come (in the not too distant future), where flying technologies will change the way we work, live and play in the city.
Prizes
1st Prize: RUR 180,000;
2nd Prize: RUR 120,000;
3rd Prize: RUR 60,000
Eligibiility
Open to architects, engineers, planners, designers and experts from any discipline who want to contribute to progress in making the world more habitable by developing ideas that could change the way we design, build and live in cities.
Application
Participant proposals should consist of the following:
A brief description in English (max 350 words) outlining the key concepts of the proposal;
Graphic materials: site plans, floor plans, elevations, cross-sections, perspective drawings, photographs of physical or digital models, axonometric drawings of any scale, artistic sketches and collages. The graphic materials should be presented in the form of DIN A-3 panels in PDF format (minimum 1, maximum 3, each not exceeding 5 MB);
Video (optional): a 3-minute (maximum) video that presents the key concepts of the proposal. Participants are free to choose the style of the video: text, images, animation, etc. The video should be submitted in the form of a link to a YouTube channel containing the video. Any subtitles should be in English.
For more information, visit Cities For A Flying World International Competition.