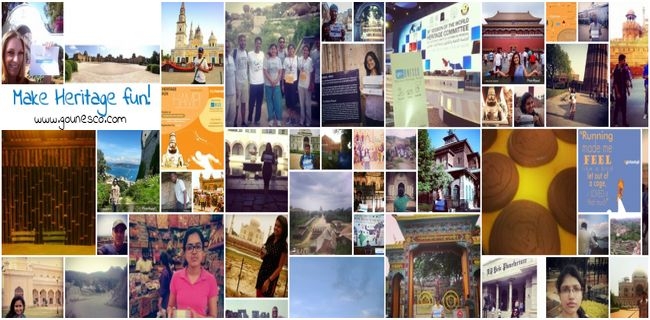 GoUNESCO Content Program Internship 2017
Deadline: June 27, 2017
Applications are invited for the GoUNESCO Content Program Internship 2017. As part of this internship, your first immediate responsibility will be to become a heritage explorer. You will also write stories based on a theme. These themes will be communicated by GoUNESCO's in-house editor. You will be expected to research article ideas and come up with current, relevant, insightful and popular topics related to an applicable theme. At the end of the internship, you will be required to coordinate, organize an event, or write a report depending on your involvement and interest. The certificate will be awarded to you based upon your performance during the six month internship. 
GoUNESCO is a UNESCO New Delhi supported umbrella of initiatives with the goal of Making Heritage Fun. Since 2012, they have created channels to engage with heritage both online and offline. They have engaged thousands of people over the years with GoUNESCO Travel Challenges, student programs, Go Heritage Runs and the #makeheritagefun events.
Benefits
As a content intern, your work will raise awareness among thousands of people interested in heritage and culture – and will reach not just enthusiasts but some of the world's foremost bloggers, photographers and people in top heritage organizations;
An intern who contributes more than 5 articles will be listed as a contributor in a special section of gounesco.com;
Past content interns have gone on to secure positions at Condé Nast Traveller and other travel magazines.
Eligibility
Open to anyone with an interest or passion for heritage, research, exploration and writing.
Application
Fill the application form with your details;
Coordinate and organize a #makeheritagefun event in your city. You will receive instructions on your email on how to organize an event. You can also check here for event ideas and tips for coordination;
Involve your friends, family and other heritage enthusiasts or organizations from your city to participate on Sunday, the 25th of June. Tip – your chances of getting into the internship are higher if there are more people applying from your city, so encourage your friends to apply for the GoUNESCO Internship Programs too!
At the #makeheritagefun event, share your experiences (photos/videos/etc) on social media – instagram/facebook/twitter with the #makeheritagefun hashtag. Make sure all participants share too – this is a global campaign – the more shares, better the chance of your event getting highlighted!
Important: After coordinating the campaign, write an article about the heritage location, and more importantly, your experience organizing the #makeheritagefun event – upload it here. You can add any number of pictures. Write as detailed an article as possible – with emphasis on the heritage site – its history, significance etc. Do not copy from the internet, always credit if you use external images. Organisers need to see your research capabilities. Suggested word limit – 800 words;
You are also required to add links of your past work in the form below or email them to [email protected] using the subject line "GoUNESCO Content Program Intership Application".
Your article should be formal, yet friendly and be between 600 to 800 words. Your sample article must be related to heritage and/or travel and must be well-researched.
Shortly after the deadline, they will get in touch and let you know if you've made it into the program!
Important Dates
June 25, 2017 – #makeheritagefun day – you need to organize an event in your city on this date.
June 27, 2017 – last day of applications – you need to upload a report of your experience organizing the event by this date.
July 3, 2017 – Start of internship.
December 30, 2017 – End of internship.
For more information, visit GoUNESCO Content Program Internship.