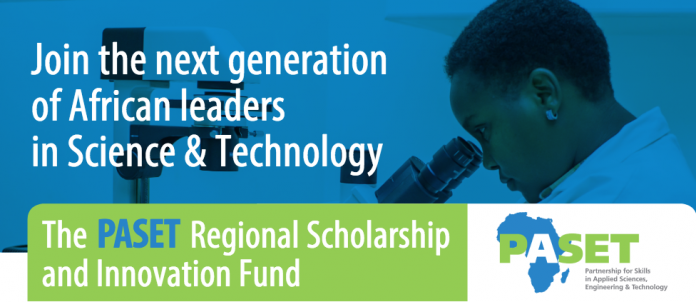 PASET Regional Scholarship and Innovation Fund 2017/18
Deadline: July 24, 2017
Apply to be a PASET Regional Scholarship and Innovation Fund Scholar. Being a scholar of the Regional Scholarship and Innovation Fund (RSIF) is a bridge to becoming a part of an exciting new community of highly skilled African scientists and innovators in Applied Sciences, Engineering and Technology (ASET) fields. As an RSIF scholar, you will study at one of the most competitive ASET programs in Sub-Saharan Africa and also have the opportunity to travel abroad for parts of your studies and work with global researchers as part of "sandwich program" partnerships with premier international institutions. RSIF aims to provide the ecosystem necessary to nurture its scholars during their PhD program and continue to create the support system for them after graduation.
The Regional Scholarship and Innovation Fund was established by African Governments to help create a highly skilled labor force to propel Sub-Saharan Africa's socioeconomic transformation. It funds PhD Scholars in fields of Applied Sciences, Engineering and Technology (ASET) fields, to address the region's acute gap in these fields. The RSIF is an initiative of the Africa-led Partnership for skills in Applied Sciences, Engineering and Technology (PASET). It is administered by the Association of African Universities.
Benefits
Study at some of Africa's most competitive ASET programs;
Receive a competitive stipend for living expenses and part of the tuition cost;
Opportunity to travel abroad to work with global researchers at premier international institutions;
Further support for post-PhD, development-focused research & innovation.
Eligibility
Applicants must be citizens of a sub-Saharan African country;
Applicants must have applied to at least one of RSIF's African Host Universities in at least one of the thematic areas. For the 2017/2018 cohort, the 3 eligible thematic areas are:

Information Communications Technology (ICT)
Food security
Mining, materials and minerals engineering.

Applicants must hold a Master's degree in a relevant field of study;
Applicants must be willing to enroll full-time in the PhD program. Students may take on teaching/research assistantship related to their discipline of study on the campus where they are pursuing their PhD program.
Priorities will be given to applicants who:

Are junior African faculty/academic staff with 1-5 years of teaching/research experience but no PhD
Have a compelling life history and academic trajectory
Demonstrate a commitment to pursuing an academic career beyond the scholarship period
Demonstrate leadership potential, such as community service in areas related to PASET RSIF fields of study
Are women or ethnic minorities; have physical disabilities
Application
Begin application by creating an account
The following documents are required:

Statement of purpose (750 words)
Bachelor's degree certificate and transcript
Master's degree certificate and transcript
Curriculum Vitae (CV)
Recommendation Letters (submit emails of two references)
For more information, visit PASET Regional Scholarship and Innovation Fund.