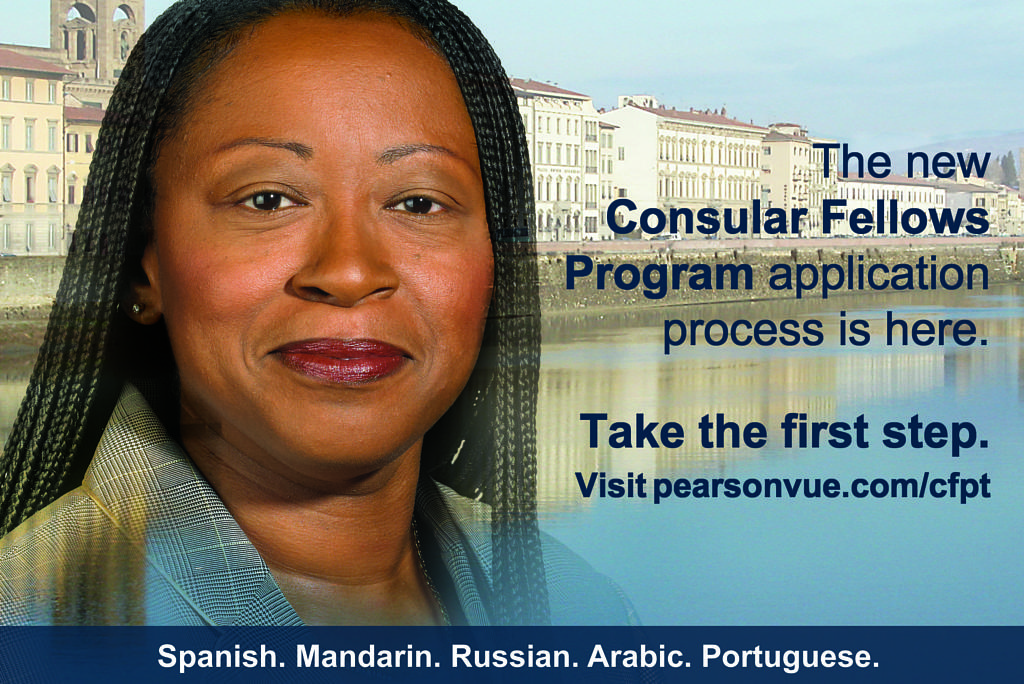 U.S. Department of State Consular Fellows Program 2017
Deadline: Ongoing
The Consular Fellows Program offers candidates a unique opportunity to serve their country, utilize their foreign language skills, and develop valuable skills and experience that will serve them well in follow-on professions. Foreign Service Consular Fellows serve in U.S. embassies and consulates overseas alongside Foreign Service Officers, other U.S. agency personnel, and locally-employed staff. Using their language skills in Spanish, Portuguese, Mandarin Chinese, Arabic, or Russian, their primary duty is to adjudicate visas for foreign nationals. Duties and responsibilities are similar to those of entry-level career Foreign Service Officers. While at post, Consular Fellows are members of the embassy or consulate community and receive many of the same benefits that career Foreign Service members receive, such as housing and educational allowances for eligible family members.
Responsibilities
Basic duties may include the following:
Interview visa and/or passport applicants – and review their applications – to determine their eligibility to engage in U.S. travel, tourism, employment, study, and other activities, as per applicable U.S. laws and regulations;
Adjudicate (i.e., approve or deny) visa/passport applications as per relevant U.S. laws, regulations, and security protocols;
Cancel and/or revoke visas when warranted, as per relevant laws, regulations, and/or security protocols;
Provide efficient, professional, and compassionate customer service by explaining U.S. visa policies and entry procedures to foreign nationals, by basing adjudication decisions on material facts and proper application of U.S. laws/regulations, and by drafting appropriate correspondence with visa applicants, their attorneys, and their congressional representatives;
Investigate potentially fraudulent activities or claims, coordinate with other U.S. government agencies to prevent the entry of ineligible foreign nationals into the United States, and develop effective working relationships with host country officials for the purpose of sharing and verifying information that may safeguard the U.S. homeland;
Use a variety of computer applications, including the Microsoft Office suite (word processing, spreadsheets, e-mail, and presentations), and develop expert user skills with specialized visa and passport computer systems;
Prepare written materials, such as memos and status reports, as needed;
Communicate with and assist Department of State colleagues on various projects, which may include serving as an embassy/consulate 24/7 duty officer, attending and note-taking for certain bilateral or multi-lateral meetings, supporting the visits of high-level U.S. government officials, and conducting consular outreach to host country nationals;
Appropriately handle sensitive, privacy protected, and classified information.
Other responsibilities may include:
Assist in the supervision/oversight of Locally Employed Staff (LES) and/or Eligible Family Members (EFM);
Conduct outreach, pro-actively representing the U.S. and U.S. policies abroad;
Participate on boards, committees, and task forces;
Interact with non-government organizations (NGOs) and/or foreign government officials;
Monitor and report on developments of interest to the U.S. government;
Evaluate policies and procedures;
Provide consular services to U.S. citizens.
Benefits
New hires who commit to a four-year service agreement will be eligible to receive a recruitment incentive of up to 10% of their basic salary.  This incentive would be paid in two installments: one upon completion of the first two-year assignment, and the second at the end of 48 months of consecutive service;
In addition, Consular Fellows may be eligible to participate in the U.S. Department of State's Student Loan Repayment Program (SLRP) at any post in which they serve when they sign an initial three-year service agreement. For more information on the program, 

click here

.
Eligibility
To be eligible, the U.S. Department of State requires that each candidate be:
A U.S. citizen on the date the candidate submits the registration package;
At least 20 years old on the day the candidate submits the registration;
At least 21 years old on the day the candidate is appointed as a Consular Fellow;
Able to be posted to a language-designated position anywhere in the world corresponding to the language for which the candidate is applying.
Application
Complete the online application form. The application includes education and professional experience, as well as Personal Narrative questions. It requires you to complete your resume online.
For more information, visit U.S. Department of State Consular Fellows Program.