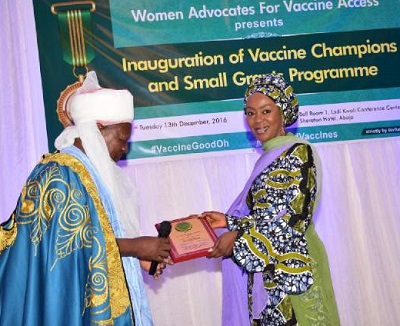 Women Advocates for Vaccine Access (WAVA) Small Grants 2017
Deadline: July 31, 2017
With support from the Bill & Melinda Gates Foundation, The Johns Hopkins International Vaccine Access Center (IVAC) is currently executing the Fiscal Advocacy for Immunization in Nigeria through Advocacy Networks, Coordination and Evidence (FAINANCE) project. The FAINANCE project aims to catalyze strategic advocacy for sustainable immunization financing in Nigeria by building and enabling a critical mass of advocates from the broad developmental spectrum. In particular, the project aims to empower an existing coalition called the Women Advocates for Vaccine Access (WAVA), to drive advocacy efforts at both national and state levels.
WAVA is a growing national coalition of over 50 women-focused or women-led CSOs currently operating in 19 states across all six geopolitical zones in Nigeria. WAVA has also recognized as WAVA Vaccine Champions, eight highly-placed and influential individuals from diverse sectors. Together, WAVA Champions and member organizations have committed to use their privileged positions and vast networks to advocate for Nigeria women and children to have unfettered access to immunization, irrespective of their status or location.
As part of the efforts to catalyze nation-wide advocacy, the WAVA Coalition is announcing the second round of small grants for advocacy. The current push is focused on using innovative advocacy approaches to increase government funding for vaccines. This is intended to expand the vaccine budget and step up domestic resource mobilization towards achieving greater coverage and equity of life-saving vaccines.
Grant
The four most qualified proposals will receive NGN 2 million each with a duration not to exceed three months running from September 1 to December 1, 2017.
Eligibility
The applicant must be a Nigerian non-governmental entity;

The applicant must be duly registered by the Corporate Affairs Commission of Nigeria;

Applicant must be able to demonstrate previous experience in successfully implementing an advocacy project or grant;

Applicants must be able to provide 3 professional references that can attest to their work;

Applicants must display sound management in the form of financial, administrative and technical procedures.
Application
Download the grant proposal form;
Completed applications should be submitted in electronic form to [email protected] and should reference WAVA RFP-002 in the subject line;
Submission of proposals should be by Monday, July 31, 2017 at 11:59 pm (Local Nigeria Time).
The grants will be awarded and implemented in accordance with IVAC's grants governing regulations and the project's internal grant management policies.
For more information, visit WAVA Small Grants.