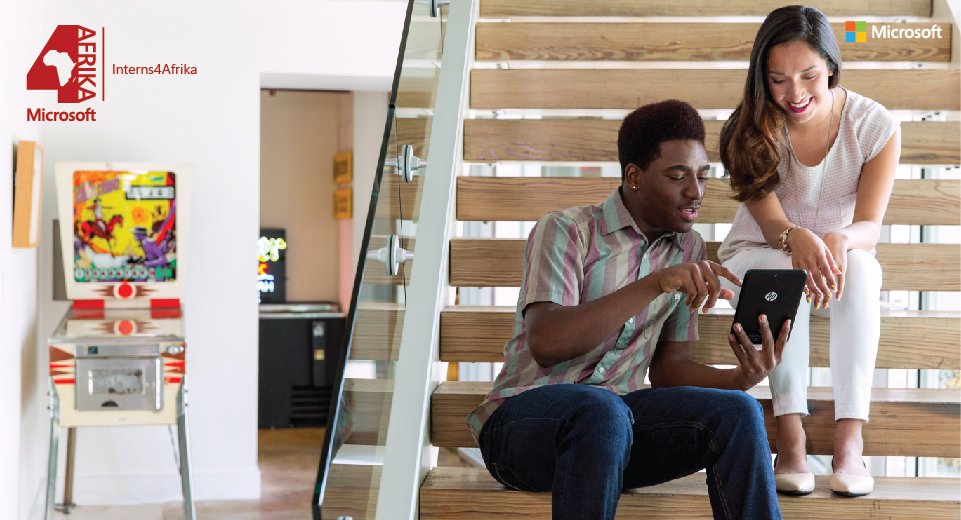 Microsoft Interns4Afrika Program for Young Graduates 2017
Deadline: Ongoing
The Microsoft Interns4Afrika program offers talented young people a unique experience with a dynamic and agile technology organization on the African continent. You will work for 6 months with a Microsoft partner on real projects, collaborating and learning from your colleagues. Whether you're aspiring for a future in sales, marketing or technology, this is your chance to kick-start your future.
To give you the best chance of success 4 weeks of your internship will be dedicated to developing world class business and technical skills. They'll support you to rapidly develop your capabilities through the (virtual) classroom and the great work you will do. The competition for a place on Interns 4Afrika is tough but if you are entrepreneurial with a passion for technology, are keen to continue learning and have a flexible can-do attitude Microsoft wants to hear from you.
There are three paths to choose from:
Interns4Afrika Sales Path: If you are passionate about interacting directly with customers and being on the front line to bring the magic of software to customers and businesses, the Interns4Afrika sales path could be right for you. If you follow the sales path Microsoft, along with their partners will provide you with a dynamic tool kit to enable you to hone your sales craft and take your first steps to becoming a world-class sales professional.
Interns4Afrika Marketing Path: If you are passionate about telling the Microsoft story to help people and businesses throughout the world to achieve more, then the Interns4Afrika marketing path could be right for you. If you follow the marketing path Microsoft and their partners will support you to capitalise on the opportunity technology presents to connect with customers in new ways, honing your communication skills and techniques to launch your marketing career.
Interns4Afrika Technical Path: If you are passionate about driving advances in technology to help Microsoft customers solve big problems and remain competitive in a cloud-first, mobile-first world, then the Interns4Afrika technical path could be right for you. If you follow the technical path Microsoft and their partners will build upon your existing technology skills and support you to learn the latest Microsoft technologies. Complete Microsoft certifications to fulfil your potential as Microsoft technical expert.
Eligibility
You are able to commit to completing full time internship for 6 months;
You are currently in education or have graduated from an Undergraduate or Postgraduate course within the last 12 months;
You have a BA/BSc in a business related or IT degree;
You have right to work in the country in which you are currently located.
Application
Apply Now! Don't forget to sell yourself on your application form and in your CV as the competition for this internship is tough!

If you have already applied and wanted to change some information, please send an update to

[email protected]. They won't accept any new application through e-mail.
For more information, visit Microsoft Interns4Afrika Program.