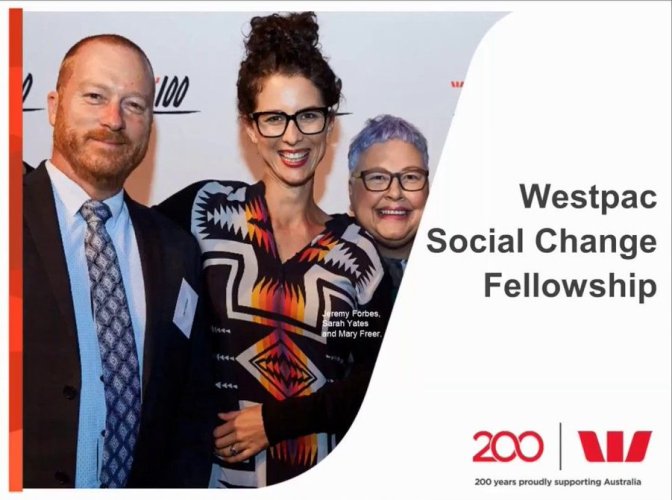 Westpac Social Change Fellowship 2018 for Innovators
Deadline: August 16, 2017

Westpac Bicentennial Foundation is calling social innovators to apply for their 2018 Social Change Fellowship. The Westpac Social Change Fellowship supports the development of people from any sector with the drive to create better lives for all Australians. Fellowships of up to $50,000 will be awarded to individuals who have the vision and commitment to deliver an initiative that will improve the wellbeing of Australians.
The Fellowship is designed to give recipients time and space to develop the skills, knowledge and networks needed to accelerate their growth as a social innovator. This may involve travel study tours, work experience, research or building stronger connections that will directly enhance their ability to lead positive social change. Successful recipients will also become valued members of the Westpac 100 Scholars Network.
Benefits
Successful applicants will receive up to $50,000. This funding will help you embark on your own bespoke development journey, over a maximum six month period. The Fellowship could cover:
Travel and accommodation costs (overseas and/or domestic);
Expenses relating to the experience;
Reasonable personal expenses;
Costs for relief in current employment (depending on need).
Beyond the Fellowship, you will also have lifelong support through the Westpac 100 Scholars Network, where you will gain access to invaluable networking, learning and development opportunities.
Eligibility
You are an Australian citizen or Permanent Resident;
You are over the age of 18;
You are applying for funds to build your capability, skills, experience and connections to deliver social change;
You are already leading an initiative to improve the wellbeing of Australians at a local, state or national level;
You have the support of the community that your initiative is seeking to benefit;
You have a keen desire to share ideas with others, to be challenged, to be inspired.
Application
There are 10 Westpac Social Change Fellowships for 2018. Apply now! Submissions close at midnight August 16, 2017 (AEST).
Please ensure that you have read the Fellowship Guidelines and Frequently Asked Questions before you start completing your application. You may begin anywhere in the application form. Please ensure you save as you go.
Key Dates
July 5, 2017: Applications open
August 16, 2017:

Applications close

December 2017:

Notification of outcome

Jan/Feb 2018:

 Fellowship Begins
For more infomration, visit Westpac Social Change Fellowship.