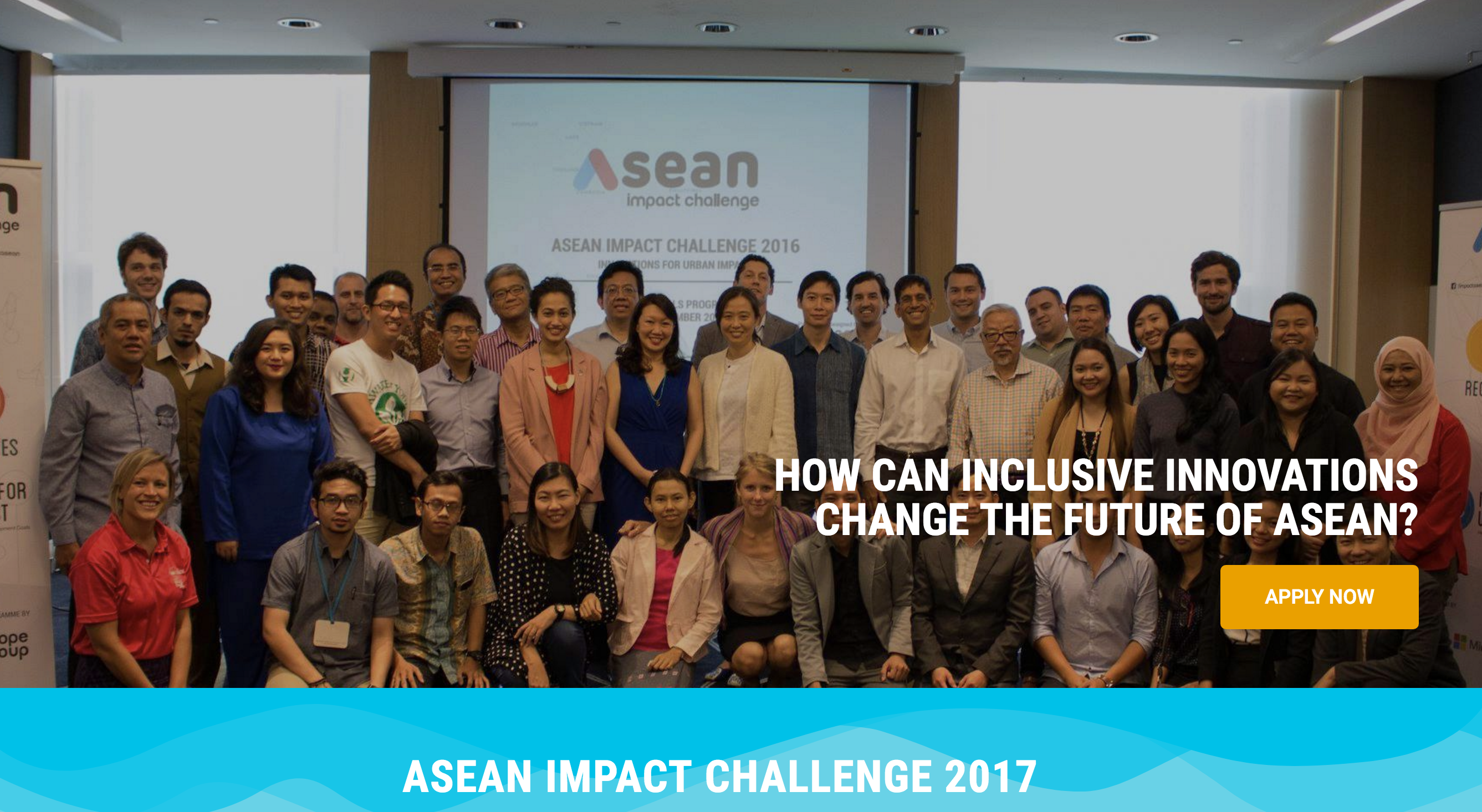 ASEAN Impact Challenge 2017 (Fully-funded to Singapore for Finalists)
Deadline: September 9, 2017
Applications is open for the ASEAN Impact Challenge. This is a regional programme designed by Impact Hub Kuala Lumpur to discover innovators and entrepreneurs from Southeast Asia who are accelerating the achievement of the Sustainable Development Goals through cross-sector partnerships and disruptive innovations. The Challenge presents opportunities to identify and strengthen new innovations and to achieve select outcomes around the SDGs.
This year's challenge is themed 'Inclusive Innovations for ASEAN' and hopes to discover innovations from citizens and the private sector that are delivering on the inclusivity agenda and the Sustainable Development Goals in the region through the power of entrepreneurship and collaboration.
Categories
ASEAN Impact Challenge will have two categories:
Early Stage Innovations: Social innovations with proposals, ideas, concepts and prototypes with the potential to deliver long-term solutions and impact on pressing community, social and environmental issues.
Scale Stage innovations: Proven social innovations with the potential and capacity to increase impact by expanding its beneficiary base. Been in operation a minimum of 2 years and has generated a minimum of USD 100,000 in revenue
Benefits
10 Finalist Teams from ASEAN countries with a proven innovation and impact model will be invited on an all-expense-paid trip to Singapore for the Regional Challenge. At the Regional Finals, they will be given the opportunity to pitch their revolutionary initiatives to a group of entrepreneurs, investors, corporations and city authorities.
Eligibility
The Challenge is open to social innovations from Southeast Asia with the potential to scale and create impact in the region.
All team members must be over the age of 18.
All team members must be able and willing to travel to Singapore. The travel period is between 21-25 November 2017.
All team members must be able to commit for the entire duration of the challenge.
Eligible Countries: Indonesia, Thailand, Philippines, Malaysia, Singapore, Vietnam, Myanmar, Cambodia, Laos, Brunei, Timor Leste.
Selection Criteria
Applications will be evaluated based on the following criteria:
problem definition
user base definition
product-market fit
innovative approach
sustainability
scalability
social impact
team capability
Application
Innovators should submit their applications through the challenge portal from August 8 to September 9.
Top 5 teams will be chosen as finalists from each category. Only shortlisted applicants will be contacted.
For more information, visit ASEAN Impact Challenge.