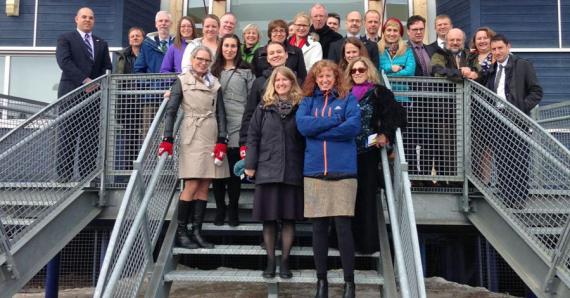 Fulbright Arctic Initiative Scholars Program 2018-2019
Deadline: October 16, 2017 (For Visiting Scholars) & October 20, 2017 (US Scholars)
Submit applications for the Fulbright Arctic Initiative Scholars Program 2018-2019. The Fulbright Arctic Initiative will bring together a network of scholars, professionals and applied researchers from the United States, Canada, Denmark, Finland, Iceland, Norway, Russia and Sweden for a series of three seminar meetings and a Fulbright exchange experience.
At its core, the Fulbright Arctic Initiative will create a network to stimulate international scientific collaboration on Arctic issues while increasing mutual understanding between people of the United States and the people of other countries. Using a collaborative model to translate theory into practice, program participants will address public-policy research questions relevant to Arctic nations' shared challenges and opportunities.
Outstanding scholars from the U.S. and abroad will be selected to participate in the program as Fulbright Arctic Initiative Scholars through an open, merit-based competition. At least four of the scholars will be selected from the United States and at least one scholar will be selected from each of the other Arctic Council member states. Co-Lead Scholars will provide intellectual leadership throughout the Program, in addition to mentoring program participants and facilitating discussion and collaboration among the Arctic Initiative Scholars.
Eligibility
Applicants must be from one of the member states of the Arctic Council: Canada, Denmark, Finland, Iceland, Norway, Russia, Sweden, and the United States;

Non-U.S. applicants must be citizens of the country from which they are applying and residing in the country at the time of application. Non-U.S. applicants who have dual-U.S. citizenship or who hold permanent residency "green cards", whether or not they reside in the U.S., are not eligible. Since specific residency requirements vary from country to country, applicants should contact their local Fulbright office directly to determine their eligibility;

U.S. applicants must have U.S. citizenship and be residing permanently in the United States;

A Ph.D. or equivalent professional/terminal degree is preferred. For professionals and practitioners outside academe, recognized professional standing and substantial professional accomplishments are required;

Preference will be given to early or mid-career academics, applied researchers and/or professionals with research experience in the public, non-profit, or private sectors;

Preference for Fulbright Scholar opportunities will be given to candidates who have not previously received a Fulbright Scholar grant. Recipients of a Fulbright Scholar grant are eligible to apply for another Fulbright Scholar grant two years after the date of completion of the previous grant. (For serial grants, the two-year period begins at the end of the final grant in the series.) Applicants may apply for only one Fulbright Scholar regional program or country per academic year;

Applicants should have particular expertise and relevant experience in one of the identified research areas and be willing to develop new collaborative research with other members of their thematic group;

Non-U.S. Scholars must demonstrate proficiency in English;

Non-U.S. applications must be submitted through the Fulbright Commission in the applicant's home country. Candidates in Russia should apply through the IIE Fulbright Office in Russia;

U.S. applications must be submitted through the Institute of International Education's Council for International Exchange of Scholars (IIE/CIES).
Application
US Scholars: All US Scholars must read the Application Instructions and complete the Application.
Visiting (Non-US) Scholars: Non-U.S. application must be submitted through a participating Fulbright Commission. See Application Instructions. For country-specific application instructions and contact information, visit the local Fulbright office website:
Important Dates
July 2017: Fulbright Arctic Initiative Scholar Competition Opens
October 16, 2017: 

Visiting Scholar Application Deadline

October 30, 2017: 

U.S. Scholar Application Deadline

February 2018: 

Finalists notified of selection decisions

Spring 2018: 

Opening Group Meeting (Canada)

Winter 2019: 

Mid-year Group Meeting (TBD)

Fall 2019: 

Final Group Meeting (Washington, DC)
For more information, visit Fulbright Arctic Initiative Scholars Program.