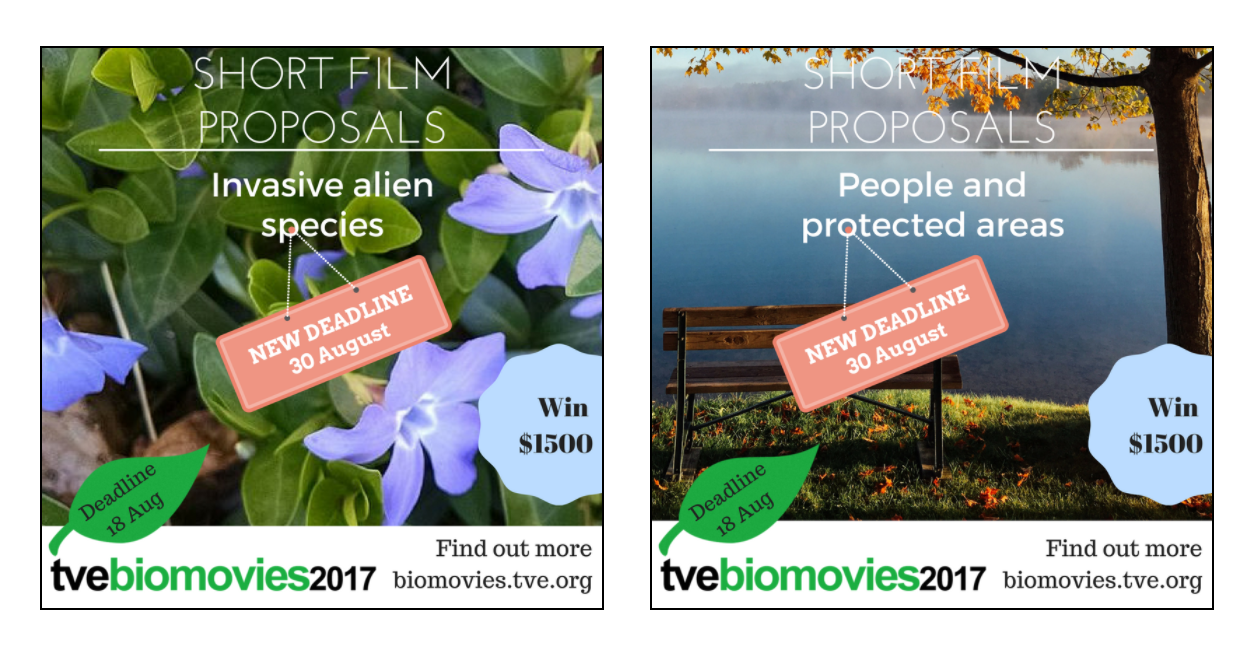 tvebiomovies Short Film Competition 2017 (Up to $3,000 in prizes)
Deadline: August 30, 2017
Film makers worldwide are invited to send their ideas for a short, one-minute film around sustainability and protection of biodiversity. tvebiomovies is a film competition open to anyone who enjoys making short movies and who wants to inspire others to find out more about the environment. All you need is a video camera or a smart phone – and your imagination. Your film could be funny or serious, an animation, a drama or a mini-documentary.
The judging panel will select three proposals from each category and pay US$300 for you to make your film. The voting public will decide which is the best film to take home two top-prizes of US$1500.
Benefits
For the top three entrants in each category, whose film ideas are judged to be the most creative, original, inspiring and which best address either of the two category themes, they will be given the opportunity to make their short film with a bursary of $300.
The finalised films are submitted and uploaded on the tvebiomovies YouTube channel.
The best film in each category, as determined by the number of views on the tvebiomovies YouTube channel, will each receive the top prize of $1500.
Categories
The purpose of the competition is for people worldwide to create a one-minute film about the environment and sustainability. The proposals and the final films must address the issues outlined in one of the categories:
Invasive alien species;
People and protected area systems and parks
Eligibility
The short film competition is open to any person of any age, in any country.
Entries can come from individuals, or groups.
Group entries must have a named group leader, whose details should be submitted on the entry form.
Entries should be submitted in English, French, German, Russian or Spanish.
How to Apply
Choose one of our categories and think how you might make a one-minute film.
Send a written proposal about your film idea using the online form by 30 Aug.
A judging panel will select the best three proposals in each category and we provide funding of US$300 to help you make your film. Funding will only be awarded on delivery of the film.
The deadline for the delivery of the final films is 25 October.
The films will be uploaded to tve's Inspiring Change YouTube channel. The winner in each category – the film which receives the most views by the end of 15 December – will receive US$1500.
Remember, all you need to do is send us your film idea by the deadline. Proposals must be submitted by 23.00 GMT on 30 August 2017.
For more information, visit tvebiomovies Short Film Competition.