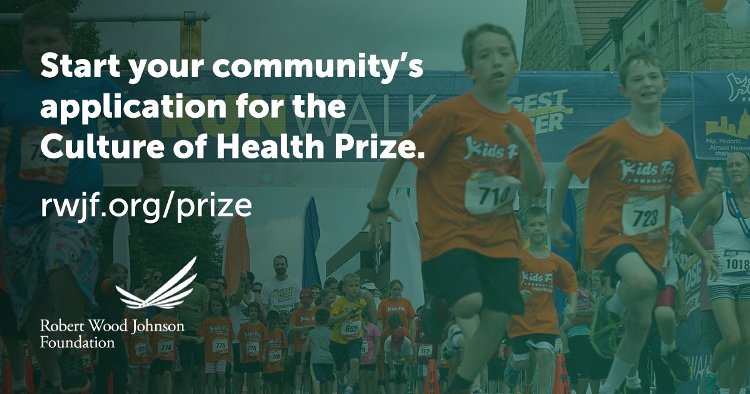 RWJF Culture of Health Prize 2018 (Winner receives $25,000 cash)
Deadline: November 3, 2017
The Robert Wood Johnson Foundation (RWJF) is pleased to announce applications for their RWJF Culture of Health Prize 2018. The prize recognizes communities that have placed a priority on health and are creating powerful partnerships and deep commitments that will enable everyone, especially those facing the greatest barriers to good health, the opportunity to live well.
At RWJF, building a Culture of Health has become the central aim of what they do, with a goal of giving every person across the nation an opportunity to live the healthiest life possible. Communities are already leading the way to drive local change, and ensuring all residents have an opportunity to make healthy choices in their schools, workplaces and neighborhoods.
The RWJF Culture of Health Prize, a collaboration between RWJF and the University of Wisconsin Population Health Institute, is the Foundation's way of honoring communities—urban, rural, tribal, large or small—that are beacons of hope and progress for healthier people, families, and places. The Prize elevates the compelling stories of local leaders and community members who together are transforming neighborhoods, schools, businesses, and more—so that better health flourishes everywhere.
Award
In this round of the annual Prize competition, up to 10 winning communities will:
Receive a $25,000 cash prize;
Have their stories and successes celebrated broadly to inspire others toward locally-driven change;
Engage with other national and community leaders as ambassadors for building a Culture of Health; and,
Join a Prize Alumni Network to learn with other Prize winners and network locally, regionally, and nationally.
Eligibility
The RWJF Culture of Health Prize honors U.S. communities; submissions representing the work of a single organization will not be considered;
Applicants must

Meet the definition of a community;
Provide primary and alternate contact people for your application, preferably from two different organizations;
Designate a local U.S. governmental entity or tax exempt public charity operating in its community to accept the $25,000 Prize on the community's behalf, should they win.

With the exception of previous Prize winners and 2017 finalists, all past applicants are eligible to reapply in 2018 (2017 finalists may reapply in 2019).
Application
Through the RWJF Culture of Health Prize application process, a community comes together to tell their inspiring stories of collaboration, action, and results. Communities should understand they are applying for a prize and not a grant. The Prize recognizes work that has already been accomplished so there is no required workplan or budget. To be competitive, it is imperative that Prize applicants keep a community-wide focus in mind through all phases of the competition.
Important Dates
Here are the major milestones from initial application through winners' celebration event:

November 3, 2017 (3 p.m. ET): Phase I Applications (for all applicant communities) due.
December 8, 2017: 

Invitations extended to select applicant communities to submit Phase II Applications.

January 18, 2018 (3 p.m. ET): 

Phase II Applications (for invited communities) due

March 2, 2018: 

Invitations extended to finalist communities to participate in a site visit

April 3–June 15, 2018: 

Site visits with finalist communities

Fall 2018: 

National announcement of winners and celebration and learning event.
For more information, visit RWJF Culture of Health Prize.