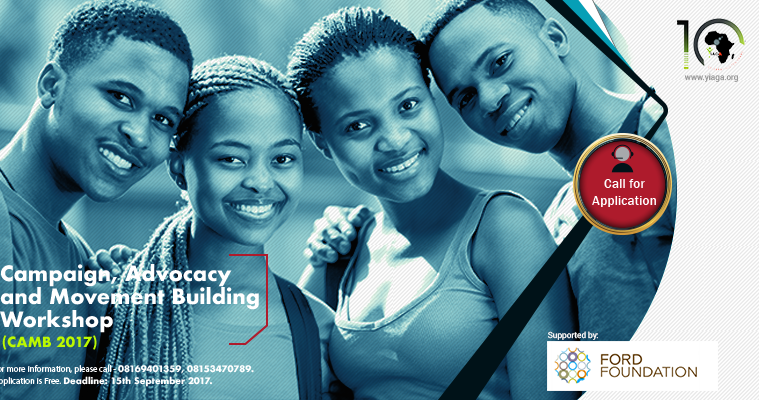 YIAGA Campaign, Advocacy and Movement Building Workshop 2017 (Fully-funded)
Deadline: September 15, 2017
The Youth Initiative for Advocacy, Growth & Advancement (YIAGA) announces the call for applications from young people to attend the Campaign, Advocacy and Movement Building (CAMB) Workshop. The workshop is aimed at improving the capacity of state based groups coordinating movements at the state level.
The participants at the workshop will be introduced to the fundamentals of community organizing, theory of change, building alliance and coalitions, strategic communications and story telling, scenario building and campaigns. The workshop will last for 5 days with 40 participants in attendance.
The Youth Initiative for Advocacy, Growth & Advancement (YIAGA) is a non-profit, non-governmental organization that promotes democratic governance, human rights and active youth participation in democratic process through research, policy advocacy and capacity development.
Cost
YIAGA will cover transportation, accommodation and feeding costs for selected participants.
Eligibility
Interested applicants must:
Be young people between the ages of 16 – 30 years;
Be based in one of the 36 States of Nigeria;
Be members of students associations or civil society organizations. Holding a leadership position in such structures is an advantage;
Have demonstrated commitment in advocating for issues affecting the lives of Nigerian youth.
Young women are strongly recommended to apply for this programme.
Application
To apply click here. Only selected applicants will be contacted.
For more information, visit YIAGA Campaign, Advocacy and Movement Building Workshop.