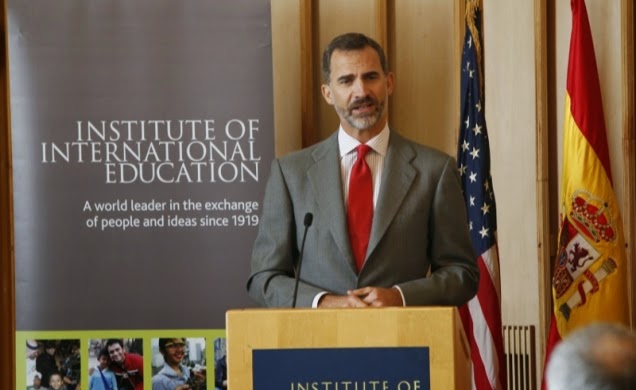 USAID Democracy Fellowship at Institute of International Education – Washington D.C ($96,110 Yearly Salary)
Deadline:  September 17, 2017
The Institute of International Education (IIE) seeks applications from qualified individuals for a full-time Democracy Fellow for Research and Evaluation to serve within the USAID's Center of Excellence on Democracy, Human Rights, and Governance (DRG Center) in the Bureau for Democracy, Conflict, and Humanitarian Assistance (DCHA). IIE manages the Democracy Fellows and Grants Program (DFG) for USAID. The appointment is for twelve (12) months. The Fellow will be hired as a full-time, salaried IIE employee, with benefits.
The DRG Center and its Learning Division promotes evidence-based policy and programming in the DRG sector. As the hub of global DRG, the Center focuses its efforts on advancing policy changes, working with over 90 field missions worldwide to develop innovative programs and sponsor cutting edge research project through a vibrant network of academic partners and implementing organizations. The Center also supports field missions in the design of new DRG strategies and field assessments, manages global mechanisms, provides technical support during periods of crisis or opportunity, and conducts evaluations of mission programs.
Duties and Responsibilities
The Fellow will serve as a research and evaluation specialist and contribute to the DRG Center's success as a learning organization through the following work streams:
Impact Evaluation Design, Implementation, and Analysis

In collaboration with DRG partners, design, carry out, and analyze impact evaluations of DRG programs funded by USAID missions worldwide.
Travel to USAID missions to provide hands-on support in identifying opportunities for original research related to DRG work, designing evaluable DRG projects, and designing rigorous impact evaluations using experimental or quasi-experimental designs.
Provide technical support to USAID field mission teams and support academic principal investigators during an annual Impact Evaluation Clinic sponsored by the DRG Center.
Develop technical tools related to foreign assistance in the DRG sector.
Research Methodology Quality Control, Training, and Advocacy

Design and deliver training modules (including training plans and resource materials) to be delivered to USAID DRG officers and other USG employees on the scientific method, survey design, and questionnaire development; a potential outcomes framework and experimental and quasi-experimental research design; and how to use results from impact evaluation and surveys throughout the USAID program cycle.
Review and inform research ideas and designs of other divisions in the DRG Center and assist them with the design, implementation, and analysis of population-based surveys and program evaluation surveys.
Peer review and constructively critique Learning Division reviews of academic literature and findings of impact evaluations and field experiments in DRG.
Support efforts to disseminate results of USAID-supported research on DRG programs to specific targeted audiences (e.g., USAID DRG officers, senior USAID leadership, U.S. Congressional committees, relevant academic communities, media outlets, etc.).
Quantitative Data Analysis and Visualization

Assist the DRG Center in collecting, analyzing, and applying empirical data to increase the academic rigor of decisions affecting USAID policy and programming.
Aggregate, organize, manage, and synthesize global, country, and regional data related to DRG.
Identify trends, anomalies, and relationships related to DRG and USAID program impact for visualizations to use in briefings, publications, and reports.
Develop and present clear and compelling visualizations of data to tell the story of DRG's program efficiency, effectiveness, and impact.
Benefits
The salary for this fellowship will be commensurate with the candidate's salary history and experience. The salary cap for this position is $96,110/year.
The initial appointment is for twelve (12) months.
The Fellow will be based at USAID headquarters in Washington, D.C. or at IIE's office in Washington, DC. International travel may be required.
Eligibility
US citizenship is required.
Availability to travel internationally, approximately 15% time is required.
A Ph.D. or advanced ABD in political science is required. If ABD, dissertation must be within five months of defense date at the time of application.
Excellent English writing skills are required.
Strong interpersonal skills and ability to work well on a team are required.
Knowledge of international donor efforts to promote improvements in democracy, human rights, or governance in developing and transitional countries is required.
Demonstrated teaching experience is required.
Competence in experimental, quasi-experimental, and non-experimental research designs and survey research, including statistical skills to analyze the results of field experiments and public opinion surveys using STATA or a similar program, is required.
Knowledge of questionnaire and survey design, web surveys, and sampling are required.
Experience in developing or transitional countries, i.e., living and working in a developing country, either for field research, short-term assignments, or long-term residential postings, is preferred.
A record of publication in peer-reviewed, academic journals is preferred.
Ability to obtain a Secret level security clearance is required; current Secret level security clearance eligibility is strongly preferred.
Application Process
Begin your job application by creating an account online.
Upload your resume while registering online.
For more information, visit Institute of International Education.