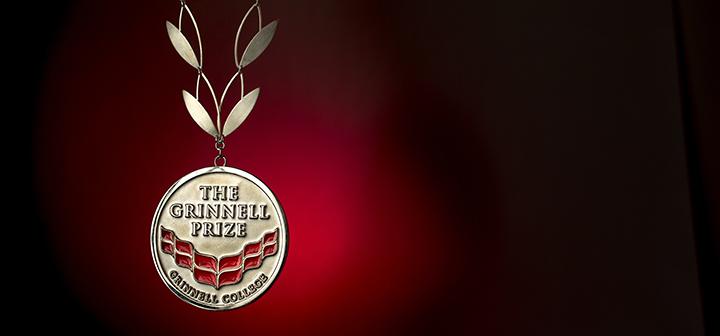 Grinnell College Innovator for Social Justice Prize 2018 (Up to $100,000 for Winner)
Deadline: October 9, 2017
Do you know a change-maker working on the cutting edge of social innovation? A leader collaborating and co-creating solutions to pressing social justice issues? A visionary tackling immediate challenges while also addressing related systemic issues? A mentor inspiring the next generation of social innovators? Nominate them now for the Grinnell College Innovator for Social Justice Prize 2018.
Since 2011 the Grinnell Prize has exemplified Grinnell College's commitment to supporting and inspiring innovative social change makers throughout the world. Winners of the Prize become part of a network of passionate visionaries who are both effecting change themselves and inspiring future generations to do the same.
Notable past winners include James Kofi Annan for his work combating child slavery in Ghana through Challenging Heights; Jane Chen and Linus Liang for their work designing and distributing low cost infant warmers through Embrace; Jacob Wood and William McNulty for their work with veterans and emergency response initiatives through Team Rubicon; and Maria Vertkin for her work helping multilingual low-income women to become medical interpreters through Found in Translation.
Award
Winner of the prize will receive $100,000!
Eligibility
Nominee(s) must be nominated by a third party;
Nominee(s) must consent to their nomination. This consent must be given in the form of a letter (if you are nominating two individuals for collaborative work this letter should come from the two jointly) that will be uploaded to the nomination form and must include:

A statement indicating the nominee(s) willingness to be nominated for this prize;
A statement indicating confirmation that the nominee(s) will have completed an undergraduate degree between the years of 2002-2018;
A brief (1-2 paragraph) description of the nominee(s) social justice work – in their own words. Please have the nominee describe the need they are addressing, how they designed creative and socially just solutions to address that need, and how they were able to make a tangible impact.

Nominee(s) must have earned a bachelor's degree (or equivalent) between 2002 and 2018;
Nominee(s) should be a force for social justice. They should have identified a concrete social justice need, designed creative and socially just solutions to address that need, and made a substantive impact through their hard work and dedication;
Nominee(s) should have demonstrated the essence of Grinnell College's broad liberal arts education through serving the common good and demonstrating expertise in the areas of critical thinking, innovative problem solving, and measurable systemic change making;
Nominee(s) must not be widely known outside their immediate community or field;
Nominees may be nationals of any country;
Nominees do not need to be affiliated with Grinnell College;
Nominee(s) must have sufficient English fluency to engage with the Grinnell College Community;
Nominee(s) must be able to provide in English any supplemental information required as part of the selection process.
Nomination
Complete and submit the online nomination form here or download a blank nomination form prior to filling the online form
Please direct any questions to [email protected] or to 1-641-269-4940
For more information, see FAQ or visit Grinnell College Innovator for Social Justice Prize.